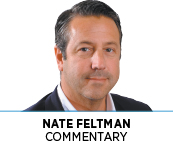 Dear Mr. Bezos:
In my first letter to you, I extolled how the work of our past and present political leaders has led to Indiana's stable and business-friendly environment.
In my second, I focused on our culture of civic leadership whereby our for-profit and not-for-profit leaders work closely with our political leaders. I postulated that Amazon would find a "cultural community fit" in that our community has long embraced business leaders and companies who engage, lead and bring new and inspiring ideas.
Two more important attributes you seek in an HQ2 location are speed and innovation. Understandably you desire a locale where government officials move quickly to remove hurdles for business growth and don't throw up new ones. You want to locate in a city/state that operates at the speed of business, not at the speed of government. You desire a locale that embraces new ideas and is willing to take risk, understanding that—without failure—there is no opportunity to learn.
At first blush, Indiana might not be top of mind as a location that embraces speed, innovation and risk taking. But Hoosiers have embraced speed, innovation and risk taking for generations—you could say it's in our DNA.
For more than 100 years, racecar drivers from Indiana and beyond have participated in the greatest spectacle in racing—the Indy 500. Innovations like seat belts and disc brakes can be traced back to Indy car racing.
But our risk-taking isn't confined to the Indianapolis Motor Speedway. Our political leaders for decades have understood that, for Indiana to be globally competitive, we would need to take calculated risks and pursue out-of-the-box ideas. In the late 1970s, business, political and philanthropic leaders in Indianapolis came up with the idea of using amateur sports as an economic engine, a successful strategy later emulated by other cities.
In 1982, then-Mayor Bill Hudnut risked his political life by betting big that building an NFL stadium in Indianapolis would help attract an NFL team; it worked, and Indy not only won a Super Bowl, but hosted one.
Another Hoosier trailblazer, former Gov. Mitch Daniels, put together a string of innovative deals that have rocketed Indiana to the top of rankings for best states in which to do business.
His lease of the Indiana Toll Road brought $3.8 billion in road funding to enhance our "Crossroads of America" moniker. Daniels moved Indiana to daylight saving time, created the Indiana Economic Development Corp. to go after new job- creating investments, cut and capped property taxes, and launched the Healthy Indiana Plan (serving more than 130,000 uninsured Hoosiers). He was instrumental in making Indiana a right-to-work state and encouraged area counties to support a food-and-beverage tax that paid for a new home for the Indianapolis Colts and an expanded convention center.
Mr. Bezos, many Hoosiers have been working hard for decades to improve our state to position us for big opportunities like yours. We have a rare combination of attributes: a high quality of life and a low cost of living; leaders who roll up their sleeves and work together to get things done that benefit our residents; a culture of hard work and innovation; and world-class universities producing the talent of the future.
We are ready to roll up our sleeves and get down to business growing Amazon in Indiana and beyond. Now all you need to do is say … Hoosiers Win!•
__________
Feltman, an attorney and former secretary of commerce for the state of Indiana, is a shareholder in IBJ Corp. Send comments to nfeltman@ibj.com.
Please enable JavaScript to view this content.