While Indianapolis has a growing reputation among foodies, it's remarkable how few of those same self-proclaimed dining adventurers don't venture out to where the widest array of ethnic foods in the area can be found.

With more than 80 restaurants featuring offerings from Peru to Pakistan, the Lafayette Square area—aka the International Marketplace—overflows with options (and languages—an estimated 150 are spoken here). It also has ample free parking.

If you haven't been in a while (or not at all), here's a rundown of the newest establishments on the multicultural menu just off Interstate 65 on the west side:

Mexican

From the abundance of quick-service burrito joints, carbon-copy strip-center eateries, and big chains that have popped up in the last 20 or so years, it might be easy to believe Mexican food fits neatly into categories. But those simplistic labels don't hold in the International Marketplace.

Newcomer Taqueria La Furia (3712 Lafayette Road, 317-426-5734) might look like a diner-in-the-rough. But it offers a sublime take on tortas, with filling choices that include tongue and cecina (a dried and salted meat, here deliciously combined with crunchy-outside/soft-inside bread). At another recent addition, La Mestiza Restaurant (3902 Georgetown Road, 317-405-9860), you get soup rather than chips as a starter—a tradition in owner Elizabeth Juarez's homeland, the Mexican state of Oaxaca. The tamales here are made with sweet corn, the drinks are decorated with fruit and umbrellas, and the hacienda decor is inviting. Taking over the former Shen Yang location (and fondly remembered as the spot where the dim sum pioneer Yummy used to reside), La Mestiza can be low-key during the day, but don't be surprised if karaoke or live musicians grace the place in the evening.

Indian

For Indian fare, Apna Kitchen (4225 Lafayette Road, 317-299-2127) and Biryani House/Suhel's Kitchen (4869 W. 38th St., 317-991-3377) each have a distinct identity. In addition to a lunch buffet—something Indian restaurants can avoid only at their own financial peril—and traditional choices, Apna also offers an extensive lineup of vegan entrees, including Guti Van Kaya, with baby eggplant cooked in peanut, red chilis and coconut-based gravy. Meanwhile, rice is king at Biryana House, essentially a banquet room with a mix of Indian and Pakistani offerings. While it's not a newcomer, long-standing Marketplace anchor India Palace Restaurant (4213 Lafayette Road, 317-298-0773) has undergone a major makeover—complete with a plush throne in the entryway.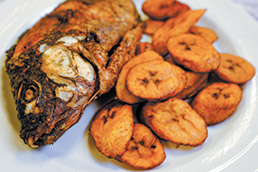 African eatery Madina Restaurant serves plaintains as a side on its dishes.
African

Madina Restaurant (3703 Commercial Drive, 317-297-7410) bravely stands in what's left of the strip center that once thrived with stores such as Media Play and HHGregg. But its Cassava Leaves Stew with rice—washed down with strong Ginger Juice—makes for a hearty lunch likely to also provide enough leftovers for the next day. Plantains on the side are a big plus at this new spot, owned by immigrants from Guinea. Across the street, Eko Restaurant and Banquet Hall (3748 Lafayette Road, 317-985-5392) brings Nigerian specialties to its intimate bar and dining room. With posters of King Sunny Ade and Fela Kuti on the walls, it features Yam Porridge, Asun (a spicy, roast goat), and Jollof—one-pot rice dishes—made with fish, smoked turkey, oxtail or a long list of other options.

More

Keep in mind that the International Marketplace is constantly evolving. Watch for the Haitian restaurant Fritay Lakay and the Mexican coffee shop Kavah to open this fall. And if Canada qualifies as international, well, there's also the Tim Hortons under construction at the northern fringe of the district, just off I-465 on Lafayette Road.•