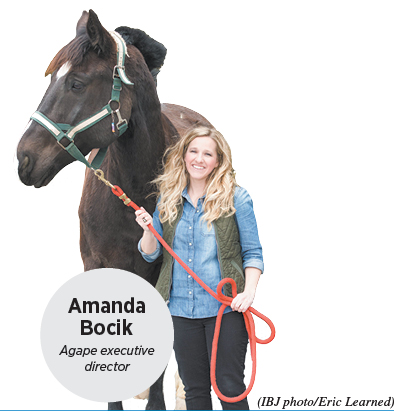 Cicero-based Agape was founded in 1986, but it didn't actually have its own property until 1994—and it still took a couple of more years to become a year-round therapeutic riding center for people with special needs. Amanda Bocik, 34, became executive director for the organization in 2012 and has continued to oversee its growth, including a third center about to open in Greenfield.
How did Agape get started?
We started as a summer provider with Indiana University's Bradford Woods outdoor recreational therapy center. At that time down there, there wasn't an indoor arena, so we would just trailer horses down there for the summer.
[The founders] found this property, and in 1994, we planted here in northern Hamilton County. By 1998, pretty much most of what you see here now was built out.
As of 2014, we've provided year-round services down [at Bradford Woods] in Martinsville. And then this spring in April, we will be opening a third center on the east side. It will not be year-round at first. Hopefully it will in a few years, and that center will be in Greenfield.
So, since you took over, the Bradford Woods location has become year-round, and now you're expanding again. Is this a long-term plan to keep growing?
To keep growing, yes. But with multiple locations, no.
There was a center in Greenfield that approached us … . They chose to dissolve and then donate their assets to us so we could serve the east side. There's no other center serving the east side.
We're able to serve more of Marion County when we're surrounding it, and it's very difficult to find property to do what we do within Marion County. So that's part of why we're OK with the third center. But at some point, the idea of growing and expanding—we need to be able to grow and expand these current three sites.
I'm sure if something were to become available in Marion County, that would certainly be something we would consider, but that's just hard to find.
Whom do you primarily serve?
We don't necessarily focus our enrollment on a specific participant group according to disabilities, because what we're able to provide can meet the needs of so many different disabilities.
We're focusing on if they have a physical goal—so that would be finer gross motor skills, maybe balance, core strength, flexibility. We also have social goals, emotional goals and cognitive goals … and the emotional, social and cognitive are more related to those life skills that we all need. We also work with individuals that may have trauma and have gone through a traumatic life experience.
In some ways, it's actually been a challenge for us in developing our messaging because there is so much that we can do. Not everybody understands that. Most everyone jumps straight to horseback riding and oftentimes that mind-set is around this recreational pony ride … and we can't wrap our minds around: How is that therapy?
But there's truly so much that we're able to teach. We have this saying: "We'll teach you a little bit about horses, but a lot about life." And that's truly what we do here.
So it sounds like you serve all ages?
Yup, we serve from age 4 up to no ending age.
How many people do you serve on an annual basis?
It's normally on average around 1,900 … and that is a unique, unduplicated number.
What is the typical reaction once people come here?
They fall in love. It doesn't take long for people to see the impact of what we're able to do.
It's a very real-time, in-the-moment life lesson that creates greater awareness of ourselves. And you just can't create that in other environments easily.•
—Lindsey Erdody
 
Please enable JavaScript to view this content.