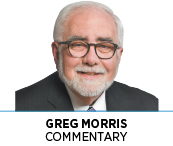 The Hoosier State Press Association and the National Newspaper Association, both of which count IBJ as a member, have joined the coalition STOPP—Stop Tariffs on Printers and Publishers. STOPP coalition members are printers, publishers, paper suppliers and distributors that represent mostly small businesses in local communities that employ more than 600,000 in the United States.

The coalition is fighting proposed tariffs on newsprint that have been initiated by petitions filed by a single newsprint mill.

North Pacific Paper Co. alleges that Canadian imports of uncoated groundwood paper—used for newsprint, directories, book publishing, circulars and other products—are being subsidized by the Canadian government or shipments are being dumped into the U.S. NORPAC has asked for duties that, combined, could add as much as 32 percent to the purchase price of Canadian paper.

A majority of U.S. newsprint manufacturers and even the trade association for the U.S. paper industry as well as their U.S. customers, oppose the NORPAC petitions. The proposed tariffs, some preliminarily in effect, could force companies to cut jobs, not only at newspapers, commercial printing and book publishing operations, but throughout the supply chain.

Most of the newsprint used in U.S. newspapers is manufactured in Canada and has been for many years. Newsprint production also occurs in the U.S., primarily in the South and upper Northwest. Many newsprint mills in both countries either closed or converted to other paper products in the past decade as newspaper publishers cut demand.

Because digital publishing has become common, readers sometime believe newsprint is no longer necessary. However, publishers cannot support internet or mobile versions of their newspapers without a printed newspaper. The hard-copy advertising and readership still provides most of the revenue that enables the digital newspaper to exist.

The U.S. Department of Commerce and the International Trade Commission are investigating the claims of NORPAC. Preliminary duties against Canadian producers began in January in the range of 6.5 percent to nearly 10 percent for the alleged subsidy violations. Another set of duties began in March, with a high assessment of 22 percent for alleged underpricing or "dumping."

Preliminary findings are not final. Trade laws are engineered to give the benefit of the doubt to U.S. producers, even at the cost of higher consumer prices. Preliminary findings can be intended to provide some interim relief before the facts are in.

However, newsprint producers are already escalating their prices, thus the harm to newspapers has already begun.

Many newspapers already report occasional shortages in paper supplies because North American paper producers see the writing on the wall and are producing less. Publishers fear the tariffs will accelerate this ramping down for paper producers.

If newsprint prices rise dramatically, it's likely publishers will purchase even less paper, and U.S. newsprint producers might find an even more difficult market for their products. Tariffs will not help U.S. paper producers.

I fully support the effort to fight and reverse the tariffs on printers and publishers. We can't let a single paper producer, with fewer than 300 employees, continue to manipulate U.S. trade laws for its own benefit while threatening hundreds of thousands of workers' jobs across the country.•

__________

Morris is publisher of IBJ. His column appears every other week. To comment, send email to gmorris@ibj.com.