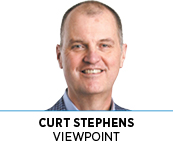 When the Indiana Utility Regulatory Commission voted late last year to repeal laws that prevented water companies from charging varying rates or prioritizing water services, I was conflicted.
I'm usually a free-market guy, someone who believes that less regulation is best. So, since the water companies have all the pipes and pumps and everything, they should be able to control their business, right?
On the other hand, I don't like the idea that the water company could decide that someone who pays higher rates gets higher water pressure. After all, when I need water, I need water. I shouldn't have to put up with a trickle when I want a torrent.
OK, the truth is the IURC didn't repeal any laws related to water companies. But the Federal Communications Commission did repeal laws regarding net neutrality. So, in the above scenario, if you substitute "internet" for "water," you have a snapshot of the situation.
Why? Because the internet has become the equivalent of a utility. It's a part of our marketplace infrastructure. We need it to be open if we're all going to compete. Unfortunately, the FCC doesn't see it that way. The new net law goes into effect April 23.
Fortunately, we might still have an opportunity to regain net neutrality. Nearly two dozen states and the District of Columbia have filed lawsuits against the FCC in an attempt to reverse its ruling, and the state of Washington recently passed its own net-neutrality laws.
Why such a strong reaction? You could cite a number of reasons, but I think one of the most compelling is that a neutral net is vital to our entrepreneurial marketplace. With a neutral net, a one-person operation in Terre Haute can compete with a big company in Manhattan … an artist can sell art to buyers across the globe … more women and minorities can get into business … and a small startup can find customers.
The last item is especially dear to me, since I'm co-founder of a small business that plans to grow by marketing and selling online. But those other scenarios matter, too, because they represent not only some of our customers, but also the entrepreneurs who shape the nation's economy.
What I said earlier is true: I generally believe a free market will create a better marketplace over time without government intervention. And I understand how the companies that manage the networks—the Comcasts and Verizons of the world—might feel they should be able to decide how they deliver their product.
But I also have a stomachache about companies like those deciding who deserves to have their web access throttled up. If they decide to slow some little business' access to a trickle in order to grant a speedier web for customers who pay more, enterprise will be affected. Innovation will be stunted. The economy will suffer.
And think about this: If access is increased for high-powered commercial areas, a lot of Indiana won't have great access. So businesses in small towns and rural areas might move their operations—and their jobs—to bigger cities.
I encourage Indiana Attorney General Curtis Hill to join those other states in the lawsuit against the FCC, and I urge our lawmakers to consider a Washington-like net-neutrality bill. We need a neutral net to give our economy the best opportunity to grow. Without it, we could see a lot of opportunity wither and die—like crops without water.•
__________
Stephens is co-founder of BoxUp, a Terre Haute firm that uses proprietary software to provide custom-designed boxes.
Please enable JavaScript to view this content.