Should schools have armed staff on campus to protect students?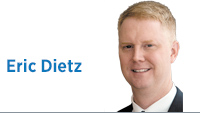 Over the past years, school shootings have led to an inescapable reality: gun bans and Second Amendment groups that argue over guns. Mostly taken on faith, we have tried waiting periods, bans, background checks and gun-free zones, hoping that either position will produce the outcome desired.
With recent events, we have data that these policies obviously failed, except for providing both sides a fundraising opportunity. Therefore, the vast majority of citizens observe little progress or solutions to these terrible crimes against our children. Attempting to build consensus based on science opposed to faith, our Purdue students' research has employed both scholarship and computer models.
Initially, our research work began as a class project using computer modeling tools to build evidence on the best method for reducing an active shooter event in schools. A 2013 FBI study describes an active shooter as a person with criminal behavior retaining a firearm with a plan for mass murder.
Of the 160 shooting occurrences documented, only 27 occurred in schools from 2000 to 2013. The criminal is typically a loner, who has suppressed empathy. Additionally, the shooter continues until confronted by law enforcement, another obstacle, or completion of the plan, with shooting at the rate of at about three casualties per minute. We used these behaviors in our computer model.
Often, communities design schools with open floor plans for both aesthetic and functional reasons. They expect these investments to last more than 20 years and label them as gun-free zones. However, in gun-free zones, our children and teachers must wait on police arrival if confronted with a shooter. The police response time averages 10 minutes. Our computer model reflected this police response.
Using the data described, the research tested three options: a school resource officer or police officer in the school, a small number of school staff with concealed firearms, and locked doors. We compared these variables to gun-free zones. Our model showed that the single greatest asset to mitigate a school shooting was the school resource office, which reduced casualties more than 70 percent. Even small numbers of school officials armed (5 percent to 10 percent) can save up to 20 percent of casualties. Finally, we found that locked doors alone could save up to 10 percent of the possible casualties. Adding these preventive measures together offered reductions that could offer 80 percent fewer casualties based on 500 school-shooting events modeled and averaged.
Depending on an individual's experience, our results are either obvious or obnoxious. Those with military experience know that more friendly firearms in a firefight are usually an advantage. Those who dislike firearms blame the existence of the weapons for the situation.
Our research enables an informed policy discussion to improve school security, reduce vulnerabilities and enhance our children's safety. Communities have used this work to consider improvements to police response times, officer staffing or arming appropriate school individuals. The best actions might differ among communities. Some response times might occur in a few minutes, while other areas have lengthy response times.
Repeating our past policies creates the possibility for about 30 casualties. Each time a loner develops a plan for a gun-free zone and acquires a gun, a school is at risk. With modern manufacturing, an individual can print a firearm in minutes.
Ultimately, we need to re-evaluate the value of firearms with trained and law-abiding citizens and security staff instead of gun-free zones.•
Click here for more Forefront columns.
__________
J. Eric Dietz is a professor of computer and information technology at Purdue University and a former director of the Indiana Department of Homeland Security. Send comments to ibjedit@ibj.com.
Please enable JavaScript to view this content.