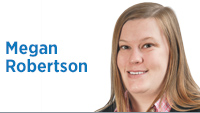 Where are all the leaders?
This is the persistent question that pops into my mind several times a day.
Whether I am watching cable news, seeing a commercial for the Republican U.S. Senate campaigns, driving down a pothole-filled road, or reading about the special session the Legislature will hold in May, it is the question I find myself asking over and over again.
Where is our Bill Hudnut, Dick Lugar or Mitch Daniels? Smart leaders who got things done. Who were not afraid to tell us things we did not want to hear but that needed to be said just the same. People who were willing to color outside the lines and think outside the box.
Where are the leaders? Because this generation of Hoosier politicos certainly leaves something to be desired.
I am not naive. Over the years, I have had dozens of conversations with candidates about the fact that the issues they are most passionate about are not necessarily the issues that motivate and persuade voters.
The key is to find where your ideas match up with the voters and focus your message.
That said, campaigns can and should be bigger than all the candidates simply mimicking what they think voters want to hear.
I always felt my job as a consultant was to find a way to make the candidate's ideas palatable to the electorate, not to make them match up completely. Candidates should certainly focus on the issues voters care about, but they should also be persuading the electorate with their ideas and solutions.
I built a career helping candidates get elected and moving on as soon as they started governing. Most people would call me a campaign hack.
It is odd for someone like me to say campaigns are too shallow and we need more policy. If anything, it is a testament to how bad things have gotten.
I am not asking campaigns to release 15-page white papers. Policy can still be boiled down to three bullet points with buzzwords.
It would just be nice to not feel like we are watching a really bad version of a beauty pageant where no one has an original thought or is too afraid to say anything that does not line up 100 percent with the mob-like electorate we have created.
After all, how can you stand out from the crowd if you all say the exact same things?
In order to lead, candidates have to be able to find common ground with voters but also persuade them to the best course of action.
It is no small task to be sure, but we have reached the point where no one seems to even be willing to try.
We all deserve better.•
 
Click here for more Forefront columns.
__________
Robertson is the executive director of Enterprise Republicans and runs her own consulting firm, Frontrunner Strategies. Send comments to [email protected]
Please enable JavaScript to view this content.