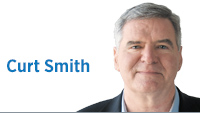 Since Indiana House Democrats marched to a taxpayer-funded boycott in Illinois in 2011— and thus minority status for a generation—focusing on the Republican primary is among the best ways to identify emerging Hoosier political trends.
This year's May 8 primary is no exception. Two state Senate races in suburban Indianapolis will reveal if Trump-ism is changing Indiana politics. Is incumbency a major disadvantage? Do policy blunders matter for the governing party?
The first race pits conservative activist Crystal Lamotte against 28-year incumbent Sen. Jim Merritt in Senate District 31. LaMotte's first run for office in 2014 yielded 26 percent of the vote against Merritt in this northeastern Indianapolis/southeastern Hamilton County district.
Stated another way, Lamotte received a third of the vote she needs to unseat Merritt (roughly 2,100 to 6,000). She needs to win 4,000 new supporters to vanquish one of the longest-serving senators in the metro area.
Merritt voted for an odd contortion of policy positions that could severely damage his re-election odds. Merritt supported the Religious Freedom Restoration Act in March 2015, but he voted just days later to weaken RFRA. The next year, when a full-blown effort to recognize sexual orientation and gender identity as protected classes in state law was the Senate GOP leadership priority, Merritt was one of only seven legislators who voted to repeal RFRA and enshrine gay rights in state law.
So in 10 months, he voted for RFRA, voted to weaken it, then voted to repeal it.
His tenure has been dogged in other ways, including his former employment with a railroad that led to allegations of conflict of interest. So, if incumbency and being part of the political class works against officeholders this year, Merritt will suffer.
A different type of challenge is emerging against conservative incumbent Sen. Mike Delph. A newcomer, Corrie Meyer, is trying a stealth campaign, saying the right things publicly but accepting support from a liberal GOP group with ties to lobbyist Megan Robertson and GOP discontent Bill Oesterle.
Meyer mentions her attendance at a large north-side evangelical church, yet offers no evidence her positions are informed by the core beliefs of traditional Christianity. She asserts she is pro-life, for example, but does not commit herself to specific positions, the acid test.
Delph should win unless this group decides to bet the farm on winning a primary. In two election cycles, Robertson-Oesterle have yet to notch a win, but Delph would likely prevail even in a dogfight in District 29, also a northern Indianapolis suburban seat.
The final race pits incumbent Travis Holdman against newcomer Eric Orr in Senate District 19 (rural district southwest of Fort Wayne).
Holdman offered the sexual-orientation and gender-identity bill noted above, which immediately crashed and burned. He has been scrambling to win back favor with social conservatives since, with leadership allowing him to carry most of the significant pro-life legislation. His challenger is an effective, articulate candidate who can win if he can educate primary voters that Holdman authored the sexual-orientation and gender-identity bill, an extremely unpopular position.
This race is really a resource question: Can Orr attract enough funding to make Holdman's policy blunder widely known and well-understood? A close race would also imperil Holdman's chances for the top Senate leadership post.
We will know shortly after the polls close at 6 p.m. on May 8 the burden of incumbency and the primacy of policy with Indiana's most conservative voters, assuming challengers mount good campaigns.•
 
Click here for more Forefront columns.
__________
Smith is president of the Indiana Family Institute and author of "Deicide: Why Eliminating The Deity is Destroying America." Send comments toibjedit@ibj.com.
Please enable JavaScript to view this content.