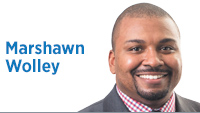 This April, as we commemorate the assassination of our nation's boldest dreamer, we also should reflect on the passage of the Fair Housing Act of 1968, which made housing discrimination illegal.
While recent reports by national media note that black homeownership at the national level has basically remained unchanged from the time housing discrimination was legal, Indianapolis has its own story to tell.
Scholar Richard Pierce examined the black community's battle against racial covenants, redlining and other forms of housing discrimination in "Polite Protest: The Political Economy of Race in Indianapolis." His analysis notes novel efforts like a Flanner House program where black middle-class residents actually built their own homes—an innovative program born out of efforts to combat systematic housing discrimination. But his analysis ends around the 1970s, shortly after the passage of the Fair Housing Act and right around the beginning of the city's Unigov era.
In 1970, the proportion of homeowners who were black in Marion County was 11.6 percent and their homes had an average value of $12,211 (or $67,380 adjusted for inflation using 2016 dollars). That year, the average value of a home in Marion County was $17,610 (or $97,190 in 2016 dollars). The number of Latino households in the county was fewer than 800, but the group paid the highest average rent of $130 (or $784 in 2016 dollars).
According to the National Association of Real Estate Brokers, an advocacy group for African-American real estate professionals, black homeownership rates peaked nationally in 2004. Pew notes that the national black homeownership rate was 49.1 percent in 2004, an increase from 42.3 percent in 1994. But by 2016, the black homeownership rate was down to 41.3 percent. Both white and Latino homeownership rates also experienced national declines from 2004 to 2016, but they were much more modest at 76 percent to 71.9 percent and 48.1 percent to 47 percent, respectively.
From 2000 to 2016, drops in homeownership rates occurred across all racial groups, but the black rate saw the sharpest decrease both nationally and locally.
According to U.S. Census data, black homeownership rates in Indianapolis from 2000 to 2010 dropped from 44.1 percent to 39.1 percent. White homeownership rates increased from 65.1 percent in 2000 to 66.4 percent in 2010, then decreased to 63.2 percent in 2016. Locally, from 2010 to 2016, Latino homeownership rates dropped modestly from 33.7 percent to 32.6 percent, while Asian homeownership rates decreased from 41.9 percent to 39.3 percent.
In 2016, the percentage of homeowners who were black in Marion County was at 17.1 percent.
Any number of factors contribute to this economic reality, and comparing Indianapolis to other cities might reframe how we understand some aspects of this situation. But at the end of the day, the racial composition of homeownership and even how prospective renters are treated in Marion County is still a problem.
The Fair Housing Center of Central Indiana, with support from the city of Indianapolis, conducted testing on black renter treatment and found that, in areas identified as predominantly white,76 percent of the time there was differential treatment ranging from information about availability to rental amounts and even security deposits.
At one public hearing, I heard former Rep. Bill Crawford suggest that community leadership should get an "A" for effort. But he lamented that we had not made progress on the economic advancement of large segments of the Indianapolis community.
Part of the American dream is homeownership, and in Marion County, we have more work to do.•
Click here for more Forefront columns.
__________
Wolley is a lecturer at the School of Public and Environmental Affairs at IUPUI.Send comments to ibjedit@ibj.com.
Please enable JavaScript to view this content.