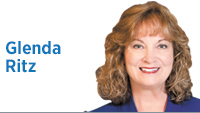 Recent events have resulted in high school students being thrust into our national political discussion. Their ability to turn the horror and heartbreak of gun violence into societal change has been inspirational. In addition, their activism has demonstrated the importance of something less often discussed, the importance of civics education in our public schools.
As an educator, I am so proud of our high school students in Indiana, and throughout the nation, who are using their knowledge of our government system to participate in the democratic process as they make their voices heard regarding school safety.
During my term as Indiana superintendent, social studies standards were revised. The inclusion of strong civics instruction was at the core of the U.S. government standards. Not only are students expected to study the history of our government, but they are expected to recognize and analyze civic engagement in our society at all levels of our government. Hoosier high school students are expected to apply their knowledge in the following ways:
The nature of politics and government. Students explain the importance of government, politics and civic engagement in a democratic republic, and demonstrate how citizens participate in civic and political life in their own communities.
Foundations of government in the United States. Students analyze the meaning and application of core ideas to government, politics and civic life, and demonstrate how citizens apply these foundational ideas in civic and political life.
Purposes, principles and institutions of government in the United States. Students describe the structures and functions of American constitutional government at national, state and local levels and practice skills of citizenship in relationship to their constitutional government.
The relationship of the United States to other nations in world affairs. Students analyze the interactions between the United States and other nations and evaluate the role of the United States in world affairs.
Roles of citizens in the United States. Students explain the idea of citizenship in the United States, describe the roles of U.S. citizens, and identify and explain the rights and responsibilities of U.S. citizens. They also examine how citizens can participate responsibly and effectively in the civic and political life of the United States.
When I watched the March 14 #neveragain high school walkout and then the March for Our Lives on March 24, I was overwhelmed with emotion and pride to see our students applying every one of these standards in a responsible and effective manner. One quote struck true for every student in our classrooms: "Fear has no place in our schools." The issue demands civic engagement and the issue will determine many voters' choices in the next few election cycles.
The highest level of civic engagement is voting. For my generation, exercising the constitutional right to vote has been more about which political party you belong to, but I sense a shift in voters. Millennials are leading the way by seeking candidates' positions on issues regardless of political party. Issue voting can bring about a stronger accountability for our elected officials, an accountability to the people over party. The power of the common voice can overcome the power of money and the common voice in the voting booth can overcome the power of politics.
Yes, civics education is alive and well in our public schools, and support for our public schools ensures that civics education is instilled in our young people to preserve and advance our democratic society.•
Click here for more Forefront columns.
__________
Ritz, a Democrat, is a former state superintendent of public instruction. Send comments to ibjedit@ibj.com.
Please enable JavaScript to view this content.