There are many reasons to start a corporate art collection. Choose the right pieces and it becomes an investment, make
it visible enough and a company's headquarters becomes an instant landmark.
But in times like these, when many bottom lines are more red than black, one has to wonder how the spending
of whimsical dollars fits into the budget.
And yet the new J.W. Marriott has commissioned an art plaza at the hotel on West and Maryland streets, a home-state
nod by Hoosier native and owner Dean White. Community Hospital North is awaiting a new installation near its entrance. To
these companies and many others, taking the artistic plunge means a more abstract financial return.
A drive down Capitol Avenue, for example, until a decade ago was little more than a row of nondescript
turn-of-the-century industrial buildings. In 2000, Shiel Sexton commissioned Structure Man, the 45-foot
metal figure that hoists a steel beam over the company's otherwise ordinary brick headquarters.
"We wanted to give a little gift to everyone driving past us," said Brian Sullivan, executive
vice president at Shiel Sexton.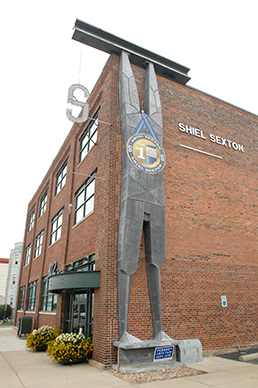 In addition to turning the Shiel Sexton headquarters into a downtown landmark, Executive Vice
President Brian Sullivan says the Structure Man sculpture has become something of a mascot. The company's
Website features an interactive game inspired by Structure Man. (IBJ Photo/Robin Jerstad)
Down the street, Zesco Products transformed its pre-art-deco building a year ago with an $85,000 steaming stock pot atop
a giant range. When co-owner Mark Zoll found out his building sits at the start of the cultural trail, he was inspired to
revamp his façade.
Steve Russell, CEO of Celadon Trucking Services, is less concerned with being in the public eye; in fact,
his headquarters is tucked far into an industrial park. Russell chose to partner with the Herron School
of Art to commission 10 student sculptures on his grounds because he thinks "art sets a tone" for his employees
and those who visit the campus. And Russell said his employees appreciate that, since there's never been any incident
of vandalism.
According to Lisa Freiman, curator of contemporary art at the Indianapolis Museum of Art, the decision
to bring in corporate art has less to do with the economy than with a company's corporate philosophy, or rather the
artistic and philanthropic inclinations of corporate leadership.
"It's not a good idea to look at art in regard to a bottom line because the value of pieces
change so frequently," she said. "Companies don't use art like stock investments."
Although Russell said he's done just that.
"If you think of [art] as an investment, you can do well," he said. "The index of the
value of art over the last 50 years has outperformed the Dow as a great investment."
Sullivan also attests to a direct financial incentive with "Structure Man," because he said
the piece adds value to the property.
"I tell people I work in the building with the giant steel man and they know exactly where I am. That's priceless,"
he said.
But compared to other cities, Freiman said, Indianapolis hasn't really scraped the surface of what
a corporate collection could be. She sited Progressive Corp. in Cleveland, which boasts 7,300 art pieces and employs
its own curator to oversee the collection.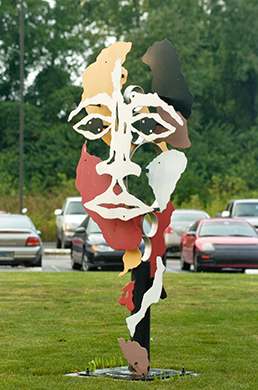 Celadon Trucking Services CEO Steve Russell formed a 10-year collaboration with the Herron
School
of Art to populate the courtyard-like space between the two buildings on his campus. "Face Behind
a Nation" (above) was installed to in conjunction with the company's 20th anniversary
and is the only piece that was not part of the Herron project. (IBJ Photo/Robin Jerstad)
"It's a profession to collect art seriously," she said.
It's also a profession to make corporate art, and Valerie Eickmeier, dean of Herron School of Art,
is confident there are enough such opportunities to warrant preparing Herron students.
The master's of fine art in sculpture, a program that's only a year old, is designed to teach
students to acquire public and corporate art commissions. The program enables student to compete for
real commissions with real budgets.
Eickmeier said they haven't had trouble finding projects.
"Community members usually identify us before we identify them," she said.
Jodie Hardy, a graduate student in Herron's inaugural class of sculpture MFAs, acquired a $10,000
commission for Community Hospital North.
She's constructing a series of wood prism-like stalks, which will dangle in a sort of curtain formation
from an existing structure in the hospital's entry drive. Hardy said it represents the outward
symbols people use to judge others.
"What happens when we strip those away and look more closely? We're all just a bundle of
nerves," she said.
The process behind winning this opportunity—building the model, presenting the proposal, executing
the work—is identical to how she hopes to run her business when she graduates.
Hardy intends to remain a solo artist, which she admits can be difficult. Many companies prefer to work
with a design firm that employs artists rather than approach an artist directly. That's why she's working to attach
an LLC to her name.
"Artists who also have business savvy can be very successful and essentially become their own firms,"
she said.
Jeff Laramore, former Herron student and partner in advertising firm Young & Laramore, started his
own design firm, 2nd Globe, with fellow artist David Young. They're the talent behind "Structure
Man" and are building the Marriott's art plaza. But Paul Knapp, a partner in 2nd Globe, insists
"design firm" is the wrong adjective for what 2nd Globe does.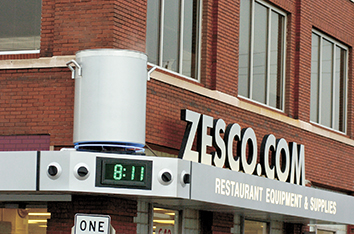 Owners and twin brothers Mark and Clark Zoll expected a lot of resistance from the city when they decided to add
bold signage to their pre-art deco headquarters, but instead their Stock Pot design was accepted right away. (IBJ Photo/Robin
Jerstad)
"Most design firms are very two-dimensional and graphic," he said. "2nd Globe artists
never create a piece and then try to find a place for it."
Freiman said artistic freedom and independence could be threatened by working for a design firm: "I
don't know any artists who would work that way."
However, Sullivan at Shiel Sexton said working with a design firm is less risky from a business standpoint.
"Firms are safe and we like safe," Sullivan said.
Deadlines are more likely to be met and things are generally more organized, he said.
No matter who's doing the sculpting, though, Freiman doesn't anticipate a lot of change in the Indianapolis
corporate art landscape, regardless of economic outlook.
"I don't think I'd ever expect to see a lot of corporate collections here, unless Indianapolis
can attract more corporate headquarters," she said.•
Please enable JavaScript to view this content.