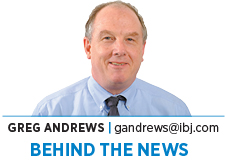 Indianapolis businessman Alan Symons finally has resolved a 17-year legal brawl that culminated four years ago in a $44 million judgment against him and his family.
The legal odyssey stems from a soured business relationship that began way back in the 1990s between the Symons family's Indianapolis insurance empire and Chicago-based insurer Continental Casualty Co. Continental had alleged breach of contract and fraudulent conveyance—illegal transfers of assets that hinder creditors.
It's not clear how much Symons paid to put the matter behind him. He declined to comment, and a court filing in January notes that the parties settled but it doesn't disclose terms. Another filing last month says Symons has satisfied those terms and is released from the judgment.
Symons' brother Robert and various family insurance units that are no longer operating remain on the hook for the judgment, "subject to deductions for all payments made by Alan Symons," the filing by Continental says.
Symons—once a big wheel in the Indianapolis business community who was president of the Columbia Club and honored as an Ernst & Young Entrepreneur of the Year—signaled last year that he wanted to put the debt behind him.
After Continental launched garnishment proceedings against him, Symons asked the court to put those on hold while he sought to scrape together as large a payment as possible. The court declined.
In seeking the delay, Michael Alerding of Alerding Castor LLP argued: "Symons does not have the assets to satisfy what remains of the judgment … he is nearing retirement and would very much like to propose something greater than what he has."
The eye-popping judgment, which was paid down to $25 million in recent years, stems from a legal brawl between Continental and Symons that started in 2001—three years after one of his Indianapolis-based insurance companies bought two lines of crop insurance from Continental. The deal included terms under which the two entities would share profits from the combined businesses.
But Symons' insurance empire, which included Symons International Group and Goran Capital Inc., soon began to teeter. That prompted Continental Casualty to exercise its right to receive full payment for the two insurance lines, but the Symons subsidiary on the hook, IGF Insurance, was unable to deliver.
That's despite the fact that Symons sold IGF's crop insurance lines for $40 million in May 2001. While that should have replenished IGF's coffers, $9 million instead went to Symons' remaining businesses to fund unusual non-compete and retention agreements, court records show.
Continental charged the Symons family used those other businesses as a personal piggy bank, collecting millions of dollars in salary and millions more in the form of interest-free loans that were never repaid and thus amounted to tax-free compensation.
Judge Richard Young slapped Symons and his family with the judgment on the grounds that they were "the recipients of improper post-transaction benefits" that left Continental shortchanged. The judge also found the Symonses misrepresented their companies' financial condition to regulatory authorities and comingled assets of the various businesses.
The case has taken so long to play out in part because of a series of appeals. Another factor, according to Continental, is that Symons family members were less than forthcoming as the insurer tried to get to the bottom of what assets they had available to apply toward the judgment.
Three years ago, it accused Alan Symons of "hide-the-ball" conduct. And last year, Young found Alan Symons' brother Robert in contempt of court and ordered his arrest after Continental charged he "blatantly ignores the multiple orders of this court and continues to hide any and all meaningful evidence of the financial transactions of G. Gordon Symons," his deceased father, who oversaw the family's insurance empire.
Alan Symons, 71, a native of Canada who now spends much of his time in Sarasota, Florida, established a high profile in Indianapolis after moving here in 1995. In addition to running the family insurance businesses, he established the venture capital firm AGS Capital LLC and had numerous other investments.
For example, Symons' LinkedIn page says that in 1986 he and a Big Ten referee teamed up to invent the Fox 40 Pealess Whistle, which went on to be sold in more than 140 countries. It says Ontario-based Fox 40 International Inc. is now the world's largest whistle manufacturer.•
Please enable JavaScript to view this content.