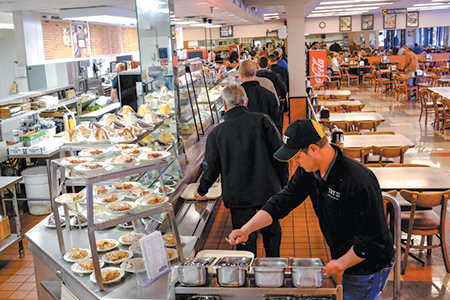 Most Americans' cafeteria experiences are confined to schools, office buildings and hospitals, many of which sacrifice taste on the lukewarm, overcooked altar of efficiency.
But Indiana is different. Here, cafeterias have long occupied a prominent place on the dining landscape, thanks to such now-vanished staples as Laughner's (once with 10 area locations) and Jonathan Byrd's Cafeteria (shuttered in 2014).
Though we don't offer as many cafeteria options as in the past, diners hankering for this sort of fare can still slide their trays past a long line of central Indiana establishments.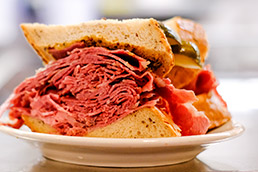 Downtown Indianapolis offers the landmark Shapiro's Delicatessen, which started as a grocery in 1905 and grew into an icon that goes through 3,000 pounds of corned beef a week.
"My Great Uncle Max eliminated the sit-down dining during the World War II era," said fourth-generation owner Brian Shapiro. "He was having a difficult time finding employees, given the robust economy of America rebuilding other nations after the war. The cafeteria line was a means to becoming more efficient to save on costs and increase speed."
But while the interior hasn't changed much, this isn't your father's cafeteria.
The establishment has made accommodations to contemporary tastes. Shapiro points to such fast-casual eateries as Panera and Eataly, which have, he said, "retrained customers' eating habits. We are an institution that has slowly incorporated the above ideas into our delivery process and system."
Shapiro's has added more self-service units to speed up customer flow and reduce costs, plus increased takeout business with online ordering. And catering, a minuscule sideline 20 years ago, now accounts for 10 percent of business.
It helps that Shapiro's boasts a distinct culinary personality. "We have unique food that is difficult to duplicate, given that we have relationships with vendors that extend over a hundred years," Shapiro said. "We use local chickens that are not vacuum-sealed or sprayed with chemicals. Our little local Indiana tomato person has been growing for us for 45 years."
MCL, with seven central Indiana locations, offers a distinctive, hard-to-duplicate lineup ranging from daily specials to a throwback Clean Platers Club for kids. Named for founders Charles O. McGaughey and George Laughner (yes, he's a cousin of the Laughner's Cafeteria founder), it, like Shapiro's, offers banquet space.
The cafeteria format creates some distinct advantages. For instance, you see what you're getting before you commit. And what you do get can be less costly than the equivalent at table-service restaurants.
Sampling the area's other steam-tray staples requires going farther afield—unless you happen to live in Morgan County, home of both Gray Brothers Cafeteria and Poe Brothers' Cafeteria.
The operations, separated by less than two miles, are both cafeterias, but that's pretty much where the similarities end.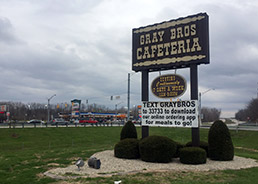 Gray Brothers is a Mooresville landmark—a cavernous building that serves some 3,000 diners on busy days. Its immense menu (the stars include fried chicken and strawberry pie) has attracted national attention and garnered a fan base that includes Meryl Streep, who has stopped in occasionally.
Down the road, an accident of geography has placed Poe Brothers in a far less advantageous position—in the middle of a gritty industrial park. Its advantage is that everyone in the family can find something he or she likes, which translates into larger parties. Poe's secret weapon, though, is its prices. The cafeteria boasts that $10 gets you a meat course, two sides, a roll and a drink.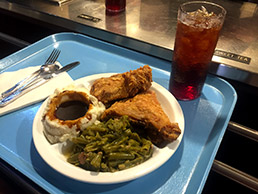 Gray Brothers is known for its fried chicken. (IBJ photos/Lesley Weidenbener)
And lest you think cafeterias are limited to these stalwarts, many others exist—just in locations not obvious to outsiders.
The Ingram Micro Mobility Marketplace at Eskenazi Health offers a surprising array of locally sourced foods, and the Indiana Government Center's cafeteria serves reasonably priced fare. Duos Kitchen @ IMG does bustling business—with above-average, often creative offerings—in a nondescript building across the street from The Children's Museum of Indianapolis.
And, yes, you can go back for a second slice of pie.•
Please enable JavaScript to view this content.