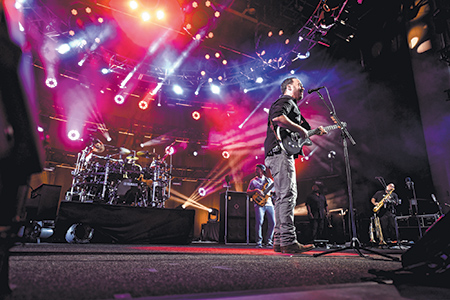 Live Nation Entertainment is preparing to launch its biggest season yet at its popular outdoor venues in Noblesville and Indianapolis—and it's made improvements meant to help fans enjoy the shows.
Nearly 50 concerts are set for Ruoff Home Mortgage Music Center from May to October, making 2018 the busiest season for the Hamilton County venue in more than 20 years, said Kyle Johnston, Live Nation director of marketing.
Fans will enjoy more restrooms, a new bar and a tiered viewing deck in the lawn.
"The fact that Ruoff continues to expand and test and look at its programming lineup is just incredible to me," said Brenda Myers, president and CEO of Hamilton County Tourism Inc. "I can't say enough good things about what they do for the community."
And in downtown Indianapolis, the Farm Bureau Insurance Lawn at White River State Park, also operated by Live Nation, has planned 25 shows for its season—the most the Lawn has hosted since opening in 2004. The season begins on April 28 with Odesza, Kimbra and Pluko.
Ruoff's season launches May 19 with country music stars Jason Aldean, Luke Combs and Lauren Alaina.
This year marks the first season the venue—which sells more tickets than all but two outdoor amphitheaters in the world—is operating under its new name.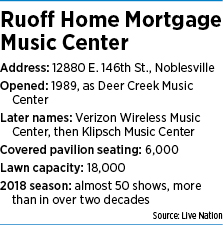 In September, Live Nation announced the Noblesville facility's name would be changed from Klipsch Music Center, a name it secured for five years, to Ruoff Home Mortgage Music Center after the mortgage company paid for the amphitheater's naming rights. Johnston declined to detail specifics about the arrangement but said the new name will stick around for many years.
The venue, which seats 6,000 in a covered pavilion and another 18,000 on the lawn, opened its doors in 1989 as Deer Creek Music Center. It operated as Verizon Wireless Music Center for a decade until speaker manufacturer Klipsch Group Inc. bought the naming rights in 2011.
Johnston acknowledged a name change poses challenges, from updating promotional material to helping the public adjust. Johnston refers to Deer Creek, the facility's first moniker, as its maiden name because so many people still use it.
But partnerships with Ruoff and Klipsch have made it possible to provide new programs and upgrades at the music venue, he said. Some of those updates took place during this off-season and address complaints and requests from concert-goers, Johnston said.
"Every year, there's something exciting for each of us as an employee, whether that's the show count or upgrades to the venue," he said. "I believe this year, we've hit it all. This will be one we won't forget for a long time for a lot of different reasons."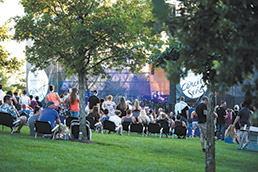 The Farm Bureau Insurance Lawn at White River State Park has 25 shows booked this season, the most it's ever hosted. (Photo courtesy of Chris Shaw)
Live music lineup
In 2017, Ruoff sold more than 500,000 tickets, according to data from the city of Noblesville, which collects a $1-per-ticket tax from the venue for infrastructure improvements in the Corporate Campus East Tax Increment Financing District.
While those funds were down about $70,000 from the year prior, the venue remains one of the top five outdoor amphitheaters in the world, according to music trade publication Pollstar, which annually ranks the top 100 amphitheaters based on ticket sales.
In 2016, the venue was ranked No. 2. Last year, it dropped to No. 3, but was still up from sixth in 2015.
This year, 49 shows are planned at Ruoff, and more could be booked, Johnston said.
May will host three well-known artists—including Aldean on May 19. Jimmy Buffet, who did not perform in the Indy area last year, has a show on May 24, and Kenny Chesney rounds up the month on May 31 with the second of 10 country concerts this summer.
The Killers, a rock band, performs for the first time at Ruoff on June 8. Fan favorites Foo Fighters and Jack Johnson also return to Noblesville.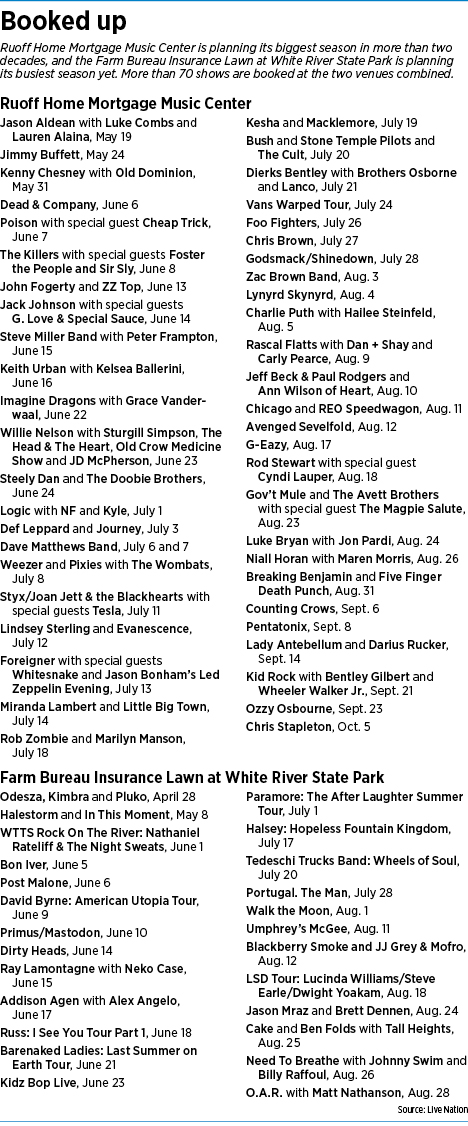 And Dave Matthews Band, a two-day show that frequently sells out, takes the stage July 6 and 7.
"There's more diversity this year than I've seen in a long time," Johnston said. "With 49 shows, you're bound to find something."
At the Lawn in Indianapolis, the season runs through September, with a few shows that haven't been announced yet.
Barenaked Ladies and Ray Lamontagne are in the lineup, and children's show Kidz Bop Live takes the Lawn on June 23.
Last year, the venue sold more than 78,000 tickets, up from roughly 73,600 in 2016, according to Pollstar data. It ranked 71st on Pollstar's list of the top 100 amphitheaters.
Upgrades at the amphitheater
Both venues have undergone updates since closing last fall.
In Noblesville, those updates include more restrooms and a bar, a frequent request from customers, as well as technology upgrades.
More than 100 toilets and sinks have been added, which Live Nation staffers hope will cut down on the long lines fans have had to deal with.
The company also built a new bar at the north plaza to shorten lines at other concession stands, Johnston said. And an update to Live Nation's mobile app allows guests to order drinks and food without having to stand in line.
The venue has doubled the size of its public-address system in the lawn area, which will result in better-dispersed sound, Johnston said. No matter where concert-goers sit on the lawn, they'll hear the show the same, he said.
And Live Nation is building a viewing deck with a bar on the south side of the lawn. For an upcharge, concert-goers will be able to upgrade their lawn tickets to view the concert from the elevated deck, which will be 30 feet wide and 40 feet deep with tiers.
Pricing for the up-grade has not been set yet. The deck will provide an "incredible view" of not only the show but the entire venue, Johnston said.
Fans can also watch concerts from a hilltop cabana, which features comfortable seating and a waitstaff. Live Nation launched that feature last year, and the reviews were good, leading the company to offer it for select shows this year.
"It's a higher-end lawn experience," he said. "People really enjoyed it."
At Farm Bureau in Indianapolis, the VIP deck has been redesigned, and Live Nation upgraded seating for reserved sections, moving from beach chairs to more comfortable seats, Johnston said.
"We're trying not to just fix a problem, but make it an even better experience," he said. Fans "come for the act on stage, but if the experience is not excellent, we risk them not coming back."
Myers, of Hamilton County Tourism, said Live Nation's willingness to make upgrades at fans' request is part of what makes Ruoff so popular.
The venue continues to innovate and make changes, and Myers said that's the reason it continues to land among the world's top five outdoor amphitheaters.
"They really know how to welcome people," she said.
Ruoff and Grand Park Sports Campus in Westfield lead the county in generating hotel stays during summer months. Hotel rooms in the area will be booked up the weekend Dave Matthews Band performs, Myers said.•
Please enable JavaScript to view this content.