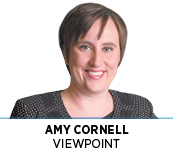 Throughout the 2016 campaign, the North American Free Trade Agreement permeated speeches from then-candidate Donald Trump. At the time, Trump was expressly considering whether separation from NAFTA was in our country's best interest. Now, fortunately, the president has reconsidered that position and it seems he is adamant about renegotiating NAFTA rather than abandoning the trade agreement altogether.

This is good news. Farmers and agribusinesses in the Hoosier state depend on NAFTA as an export catalyst and job creator. I applaud the administration for intensifying the NAFTA negotiations.

U.S. agriculture has seen tremendous benefits from NAFTA. The agreement has allowed the U.S. food and agriculture industries to flourish, and those industries now support more than 43 million jobs.

Canada and Mexico rank as the top three agricultural export markets for 37 states, including Indiana. All in all, agricultural exports to Canada and Mexico have increased 450 percent under NAFTA, and fruit and vegetable exports to Canada and Mexico have more than tripled.

Without NAFTA, $3 billion in annual soy exports would be jeopardized, as Mexico and Canada would surely look to our competitors in South America who, without NAFTA, would be able to undercut us on labor costs.

U.S. production of corn would fall an average of 150 million bushels annually, erasing $800 million in value and increasing the need for farm-program payments by $1.2 billion. Finally, withdrawing from NAFTA would decrease total U.S. pork production 5 percent, resulting in an aggregate industry loss of $1.5 billion, jeopardizing more than 16,200 U.S. jobs.

Indiana depends on the agriculture industry, and its exports, to prop up our economy. In 2016, of the $1.4 billion in total Indiana food and agricultural product exports, $573 million, or 42 percent of such exports, went to NAFTA partner nations. The industry currently supports more than 870,000 jobs and $37 billion in wages throughout our state. In short, Indiana's economy would be devastated if the United States left NAFTA. But renegotiated terms could significantly help our state and the agriculture industry as a whole.

A successful NAFTA reboot must expand, not shrink, access for our agricultural goods. It must reduce unnecessary regulatory and non-tariff barriers that block U.S. agricultural exports. It must reduce bureaucratic delays and endless red tape that plague major export industries. Finally, it must enhance fairness in the treatment of agricultural exporters when involved in trade disputes.

NAFTA's modernization is necessary to bring it into the 21st century, with a focus on ensuring fair and balanced trade in today's economy. But we cannot afford to forget the immense benefits we continue to receive from it.•

__________

Cornell is president of the Agribusiness Council of Indiana. She is of counsel in Bose McKinney & Evans' Agribusiness and Real Estate Groups and a vice president in government relations with Bose Public Affairs Group.