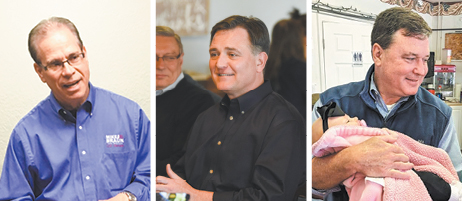 It can be a little tough to distinguish between the three Republicans running in the primary to take on Democratic incumbent Sen. Joe Donnelly.
After all, two of the three candidates have voted the same all but 11 times on key votes in Congress over the past six years, according to not-for-profit Vote Smart. And all three have the same or similar stances on key Republican talking points like abortion and gun control.
One of the candidates has even produced a campaign ad mocking that voters can't tell the difference between his two opponents. Plus, all three are desperately trying to convince voters they are the most aligned with Republican President Donald Trump's agenda.

But U.S. Reps. Luke Messer and Todd Rokita and former state lawmaker Mike Braun do have different opinions on how to address some issues.
IBJ looked at where each candidate stands on federal spending, tax reform, trade policy, immigration, health care and term limits. For more on each of their backgrounds and to read profiles of the candidates, go to IBJ.com.

Tax reform
The tax overhaul package Congress approved in December cut the corporate tax rate and individual tax rates as well as doubled the inheritance-tax exemption. Republicans argue the cuts will stimulate the economy, and they point to recent company announcements of employee bonuses and salary increases as proof.
But according to the most recent estimates from the Congressional Budget Office, the deficit will surpass $1 trillion by 2020 as a result of the tax bill.
Indiana GOP Chairman Kyle Hupfer said this issue is probably among the most discussed right now by voters.
"I think that will continue all the way through the general election," Hupfer said.
Braun: He described the tax reform package as the "most significant piece of legislation to come out of Washington since the [Ronald] Reagan years."
"The results are clearly great for our economy and everyday Hoosiers as we see wages increase, unemployment shrink and more dollars in the pockets of hard-working Americans," Braun said.
Messer: He voted in favor of the tax cuts, saying they're one of his biggest accomplishments during his time in Congress. He predicted that the CBO estimates will be wrong and that the economy will improve as a result of the cuts.
"We know this: If we don't have a growing economy, we're never going to balance the budget," Messer said.
Rokita: He voted in favor of the cuts, and in February introduced a bill that would make bonuses of up to $2,500 received in 2018 tax-free.
"It means real things to real people, so that's a good thing," Rokita said of the tax cuts.

Federal spending
This is the area where Messer, Rokita and Braun probably differ the most. Of the 11 times Messer and Rokita have voted differently in Congress, six involved an appropriations or funding bill. Congress approved two appropriations bills recently—one in February that raised caps on domestic and military spending and kept the government funded for six weeks and one in March that funded the government through the rest of the fiscal year, which ends Sept. 30.
Hupfer said voters are interested in what candidates will do to lower the federal debt, because they don't think enough has been done yet, even if they align with Trump.
"There is still a big push for change," Hupfer said.
Braun: During a debate hosted by Americans for Prosperity—Indiana, Braun said he would not have voted for the February spending bill. And when asked by IBJ about the March bill, Braun said he would not have voted for that one, either.
"President Trump was forced to sign a bad bill just to keep the government running," Braun said.
Messer: He voted in favor of both spending bills because, even though he admitted neither bill was perfect, it's what Trump asked Congress to do.
"I voted for it because our commander-in-chief said it was essential for our national security," Messer said.
Rokita: He voted against both budget deals this year because, he said, the terms were not what Trump actually wanted.
"My vote was very anti-elite and pro-Trump. This was hoisted on him," Rokita said. "I'm sure he didn't ask for a bill that funds Planned Parenthood, that funds sanctuary cities, and that doesn't build a wall."

Tariffs and trade policy
The Trump administration is trying to renegotiate the North American Free Trade Agreement and has announced plans to impose tariffs on steel and aluminum. That announcement has already sparked retaliatory threats from China.
Hupfer said "it's too early to tell" how Republicans feel about the move. "I think there's some concern out there about what the actual outcome will be," he said.
Braun: He said tariffs should be used only when there's a problem to solve. In this case, he thinks Trump did a great job.
"Everybody could be impacted if it devolved into a trade war," Braun said in a recent debate. "Let's not go there. It hasn't happened. He's hit it right on the money."
Messer: He supports Trump's decision to impose tariffs and take a tougher stance on trade, but is interested to see how the details shake out.
"The details here do matter and we need to make sure and implement these policies in a way where we don't hurt Indiana manufacturing and we look out for Indiana agriculture," Messer said.
Rokita: He believes in free trade, but wants there to be a "level playing field" with China and other countries.
"Ultimately, Trump's targeted tariffs are the right approach, and I will continue to study the data to make sure we have the right balance so that Hoosier farmers, manufacturers and hard-working families are all represented," Rokita said.

Immigration
This has been one of Trump's biggest talking points since becoming a presidential candidate. He wants to build a wall along the Mexican border, which all three candidates support, and tighten restrictions on who is allowed to become a citizen.
"A lot of people are worried about border security," Hupfer said. "What is coming into our country because we have unsecure borders?"
Braun: He said any bill on immigration reform should include funding for the wall, and should ban sanctuary cities and end chain migration.
"We can't have a country until we have a border," Braun said.
Messer: He supports providing legal status to immigrants—but without a direct path to citizenship. He said the border needs to be more secure, and we should move toward a merit-based immigration system.
"The president is a very strong negotiator… . He offered a proposal that basically gave the Democrats what they asked for on DACA and said in exchange for that, you need to secure our border and move to a merit-based immigration system," Messer said. "They rejected that deal."
Rokita: He has introduced a bill that would impose penalties for politicians in sanctuary cities and supports defunding sanctuary cities.
"We must put an end to sanctuary-city policies that ignore the rule of law and put the interests of illegal immigrant criminals ahead of American citizens," Rokita said. "I'm proud that we have a president in the White House who fights for the safety of Americans and is taking this issue head on."

Health care
All three say they want to repeal the Affordable Care Act, also known as Obamacare, but Congress already failed once to do so, even with a Republican majority in both the House and Senate.
Hupfer said Republicans still want health care fixed. "They still aren't happy about Obamacare," Hupfer said. "They still aren't happy with the way things are going."
Braun: He would like to allow individuals to buy insurance across state lines and allow small businesses to team up to purchase plans together to lower the price.
"This is something that I really think I can move the needle [on] because I've done so many things in terms of aggressive health care in my own company," Braun said.
Messer: He still wants to repeal Obamacare, and argues that he did his job by voting in the House to repeal it.
"It is not OK that the Senate has failed to act after seven years of promises," Messer said. "The only way to repeal Obamacare is to replace Sen. Joe Donnelly and get rid of the filibuster."
Rokita: He would like to see a health care system that's more focused on patients and allows decisions to be made between a patient and doctor.
"We were unable to repeal Obamacare because of one Senate vote—a no vote from Joe Donnelly," Rokita said. "That is why I am running for the U.S. Senate, so we can repeal the insidious Obamacare law once and for all."

Term limits
All three campaigns have pushed the idea of "draining the swamp" in Washington, D.C., which could include limiting how long lawmakers can serve in Congress.
But term limits don't seem to be top-of-mind with voters. "I don't hear that from voters or from Republicans when I'm traveling the state as being one of their big issues," Hupfer said.
Braun: He advocates for term limits and says the fact that he resigned from his Statehouse seat proves he's serious about it. He said he thinks more business leaders don't run for office because they don't want to be career politicians.
"I'm an advocate of term limits so that maybe people would step out of their comfort zone knowing they could serve at the federal level, then get back to what they were doing," Braun said.
Messer: He supports implementing a 12-year limit for senators, along with other procedural changes.
"My Senate reform plan would impose a two-term limit, in addition to ending the filibuster and speeding up President Trump's confirmations," Messer said.
Rokita: While he admits he doesn't talk about it much, he supports a two-term limit for U.S. senators, and it's on his list of items he'd still like to accomplish.
"I lived [under term limits] when I was secretary of state. I served for eight years and then I was done under our constitution," Rokita said. "I'm voluntarily term-limiting myself now as a congressman."•
Please enable JavaScript to view this content.