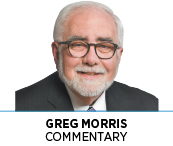 Demonstrating inspired leadership is something executives wrestle with their entire career. There are thousands of books and seminars that teach leadership principles. But where is all the information on inspired leadership?

I am always on the lookout for inspirational reading and recently rediscovered an old friend that had been buried too long: the book "The Spark, the Flame and the Torch—Inspire Self, Inspire Others, Inspire the World," written by Lance Secretan and published in 2010.

I discovered the author and book while traveling with a delegation of about 90 central Indiana community leaders several years ago. It was the Leadership Exchange Trip organized every year by the Greater Indianapolis Chamber of Commerce.

That particular year, the trip was to Portland, Oregon, where, in the very first session, I was privileged to hear Secretan, a truly inspirational speaker.

Secretan is the former CEO of a Fortune 100 company, a university professor, an award-winning columnist and the author of 21 books about leadership, inspiration, corporate culture and entrepreneurship. He also wrote the award-winning memoir, "A Love Story," after the passing of Tricia, his soul mate of 30 years. In sharing the private part of his life and his lifelong romance with Tricia, Secretan did what he always does: inspire people.

And don't think love is off topic when it comes to inspired leadership. As he says in "The Spark, the Flame and the Torch," inspired leadership has three essential components:

◗ loving intent,

◗ contribution to the positive growth of others, and

◗ enhancing the condition of the world.

He boils it all down to—"Inspirational leadership is a serving relationship with others that inspires their growth and makes the world a better place."

Now, I will be the first to admit that I've not come close to achieving such a lofty goal. But I figure it's never too late to make changes and accomplish great things. It always starts with me (you). We have to inspire ourselves before we can inspire others.

Within your company, are you inspired to accomplish your work and have you been inspired by company leadership? Have you witnessed inspirational leadership? Are you inspiring others?

We make excuses for our behavior and point out that it's tough out there. But we have to rise above the negatives and demonstrate exceptional and inspirational leadership to foster exceptional performance. You can't control a lot of things in life, but you are in control of your actions.

We do things because we are inspired to do them. We should teach inspiration, not leadership. How many leadership books have you read? Have any of them changed your life? Secretan tells us we need to provide motivation and inspiration to our staffs. It's important to know the difference. Motivation manipulates people to do what we want them to do. Motivation is all about me.

Inspiration is all about them. The definition of inspiration is to arouse by divine influence. It comes from within. Your staff will perform at the highest possible level only if they are inspired to do so. You can be an inspirational leader, but others must choose this path for themselves. Remember, we must inspire ourselves before we can inspire others.

So, if you are looking for a spark to ignite your inspirational leadership flame, check out Lance Secretan's work at www.secretan.com.•

__________

Morris is publisher of IBJ. His column appears every other week. To comment, send email to gmorris@ibj.com.