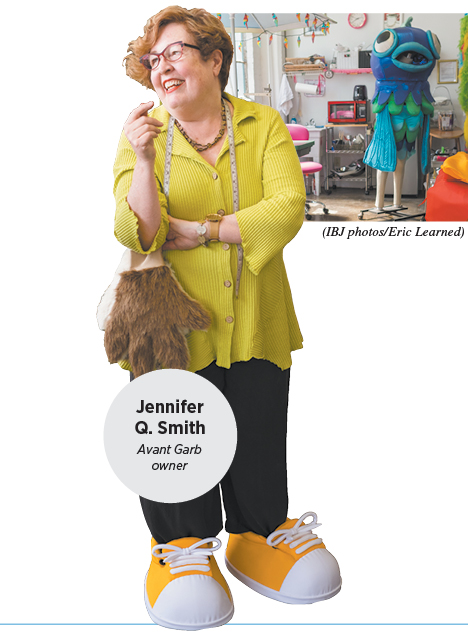 Jennifer Q. Smith's business card lists her job title as "Queen of Fuzz" at Avant Garb Inc.
It's an offbeat job title, but it fits.
Avant Garb, which Smith founded in 1986, designs and creates mascot costumes of all sorts. She's created the current or former costumes for the Indiana Pacers' Boomer, the Indianapolis Public Library's Booker (a smiling oversized book), IUPUI's Jawz and Jazzy jaguars, and many others for organizations around the country.
She and a handful of assistants create 25 to 30 costumes a year, working from a studio at the Stutz Business and Arts Center at 10th Street and Capitol Avenue. Her space is covered in whimsy: a wall clock trimmed with a fringe of pink fur, a "potted plant" costume hanging from the ceiling, a cartoonish pair of oversized mascot sneakers on a table.
But mascots are also serious business, as Smith explained to IBJ.
If somebody were in the market to buy a mascot and all that goes into it, what kind of price range are they looking at?
Generally, they're looking at $8,000 to $12,000.
That covers the design and the production?
Right. Sometimes they come with a design and that brings it down. You might get something for $7,000. Sometimes they need accessories, sometimes they have snazzy clothes, sometimes they need fans, sometimes they need lights. It depends on the design and the complexity.
That's a fair amount of money. What things do you tell somebody who's kind of on the fence?
It's really your direct ambassador to your customers—your current and future customers. Also, in the land of social media, they are social media magnets. I wrote a blog recently: "Selfies With Mascots—It's A Thing." I feel like the purchase of a mascot brings back the money in like a day and a half in terms of advertising.
You mentioned that the mascot industry has grown a lot over the last 25 or 30 years. What do you attribute that to?
It's exciting to have a mascot. When a mascot shows up, you have something to talk about to a stranger next to you or to your parents or to your children, or to somebody you're eyeing from across the room. … I believe they bind communities together. Suddenly, it doesn't matter if you voted for Trump or Hillary or whoever the Libertarian was. It really doesn't matter. … I believe mascots can bring world peace.
How many companies are doing something similar to what you do?
Quite a lot. I'd say there's really about 10 in the country, and Canada, that are really doing quality mascots. If we're busy, I will refer to a few people, because there a few people who do excellent stuff like we do. It's a hard thing to do.
In what way?
Your prototype is also your finished piece. … We know how to make fat suits and we know how to make the tails stick out. We know a lot, but we don't know everything. Every mascot has its own little quirks.•
Please enable JavaScript to view this content.