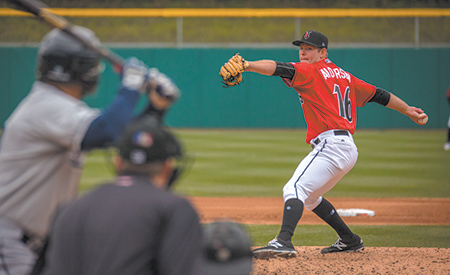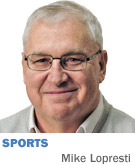 Here's something you don't see every day in Triple-A baseball, on the doorstep of the big leagues: An all-Ivy-League battery.
Now pitching for your Indianapolis Indians, Tanner Anderson, Harvard class of '15, with a degree in history of science. Now catching, Ryan Lavarnway, Yale philosophy major. The two had their first game together the other day, so what was it like—a Harvard man throwing to a Yalie, considering the schools have been sports rivals since 1852?
Anderson: "I figured at some point this question would be asked. We go back and forth about it. I didn't actually know that he went to Yale and he didn't know I went to Harvard until a couple of weeks ago when we found out we were both coming to Indy.
"We were on the same page today. We both think, and that's one of the strong suits in the game of baseball."
Lavarnway: "He's a pretty cerebral guy. I think the stereotype for him would be that he can over-analyze things, and that's the stereotype that I've had to battle myself. So I'm going to try to get to know him as an individual and not cluster him in with Harvard and a philosophical cerebral type of character before I get to know him.
"I think it shows a lot about his work ethic that he was able to get into Harvard and graduate. I think that's a positive and I'm going to keep it as a positive."
Anderson is the young right-handed prospect, only 24 years old, a 20th-round draft pick working his way up the Pittsburgh Pirates organization. From Harvard Yard to PNC Park is not exactly a popular flight path.
"It's absolutely unusual," he said. "You don't find a lot of guys who played college ball in the Northeast, let alone the Ivy League, and end up playing pro ball. But at heart, I'm still a Tampa, Florida, kid who's played baseball his whole life. The only adjustment in college was the weather."
Lavarnway is the 30-year-old veteran, still dreaming the big-league dream. He has 140 Major League games to his credit, with Boston, Baltimore, Atlanta and Oakland. A journeyman on an uncommon journey. In 2012, he and pitcher Craig Breslow joined the Red Sox as two of only three Yale products in the Major League in the past 53 years. When they played in the same game, they became the first all-Yale big-league battery since 1883.
"It's the question I've had to answer in my own career over the last 10 years—why did you go to Yale if you want to play baseball?" Lavarnway said. "I never thought going to Yale, I would have to answer, 'Why did you go to Yale?'"
OK, so why did he go to Yale?
"To me, it doesn't seem unusual because that was my best baseball offer at the time. I was a late bloomer. I graduated from high school at 17. If I had been held back or if I had started later, I might have been going to a more traditional baseball college."
Worked out pretty well. In 2007 as a sophomore, he led the nation in hitting at .467.
"At the time, I was just trying to hit the ball. I was having fun with my team trying to win games, and I don't think I knew that was even a thing until about the last week of the season. Then I was just trying not to mess it up. To look back at it now, it's pretty special to me."
While we're at it, why did Anderson go to Harvard?
The Crimson staff spotted him pitching at a tournament in Florida and started recruiting him. "My parents were excited," he said. "I was like, 'Let me get my test scores up a little bit.'"
Worked out pretty well. He started in biochemical engineering—"That lasted to about my freshman spring, when I took one of the weed-out classes that weeded me out."—and then shifted to history of science, a curriculum that fit his love for science, "without doing the eight- to 10-hour lab schedule every week."
He once threw a 10-inning 138-pitch complete game against Brown. He hit his only college home run—a grand slam—in a 20-19 win over Princeton. And after all that, there was commencement on Harvard Yard, with alum Natalie Portman as the featured speaker. "That's what I remember. We had senior week leading up to it, and it was more fun than probably it should have been."
So now he's an Ivy Leaguer in a professional baseball clubhouse, which is almost as conspicuous as a guy wearing a barrel.
"I get the normal clubhouse banter. My nickname's been 'Harvard,'" he said. And he knows that when any issue is being discussed, someone will invariably ask what Harvard thinks. "I rarely bring anything new to the table."
But the degree is on his resume, and always will be.
"Hopefully, it won't mean anything to me for a little bit. It's a Plan B for me. I knew in my college years I was going to try to play professionally. It's something to rely on after baseball, because there's an after-baseball for everyone."
Meanwhile, Lavarnway has his own boost from Yale, though one day he'll need to finish the last few hours to get his degree.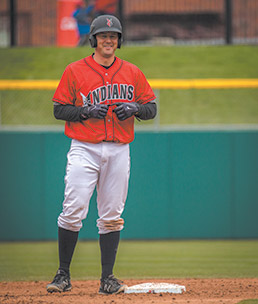 Ryan Lavarnway still needs a few credits to receive his degree from Yale. (Photo courtesy of Indianapolis Indians)
"The work that I put in the classroom helped me progress my baseball career as well as my career, whatever that will be after baseball," he said, mentioning time management as one skill he learned. "But my wife will tell you that my transcripts say that I focused a little bit more on baseball."
Lavarnway's winding road also included catching for Team Israel in the 2017 World Baseball Classic and hitting .565. "For me, that was pretty life-changing, as far as understanding and embracing my Jewish identity," he said. "I've always been a pretty private person, so that was one of the first times I really stepped in the spotlight and was proud of my Jewish heritage publicly. I was embraced by the Jewish community. It's made me feel so much more connected to it."
Both men share a common hope—that their academics will pay off. But today is for baseball.
The pitcher from Harvard: "We're going to continue Plan A for now."
The catcher from Yale: "I think I'm one right opportunity away from catching on and really sticking up there. That's what really keeps me going. It's because I think that I can play in the big leagues and I think I can play well in the big leagues. The minute I don't think that's in my future, I won't be doing it anymore."
So Victory Field might not have ivy, but it does have the Ivy League.•
__________
Lopresti is a lifelong resident of Richmond and a graduate of Ball State University. He was a columnist for USA Today and Gannett newspapers for 31 years; he covered 34 Final Fours, 30 Super Bowls, 32 World Series and 16 Olympics. His column appears weekly. He can be reached at mjl5853@aol.com.
 
Please enable JavaScript to view this content.