Should the government require companies to offer paid parental leave?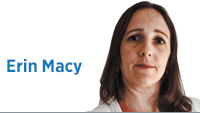 Welcoming a child into your family can be a roller coaster of joy, stress, sleeplessness and awe. It's a critical time for family formation and bonding. Lack of paid leave shouldn't cut the ride short. Nor should it keep parents from accompanying their child to chemotherapy or caregivers from assisting their aging parents after surgery.

A reasonable amount of paid time off to care for one's health, adjust to parenthood, or attend to a family member in need should be available to all and not a perk dependent on position and pay scale.

According to poll after poll, a majority of Americans agrees. And high-profile announcements might lead us to believe that public- and private-sector employers recognize this and are stepping up to the plate. However, few workers have access to paid family or medical leave. A little more than a third of the civilian workforce has temporary disability coverage through work and only about 15 percent of workers have paid family leave. Low-wage workers, who can least afford to go without a paycheck, fare the worst, with 17 percent covered by temporary disability insurance and 6 percent with paid family leave.

Paid family- and medical-leave programs have received positive reviews from both employers and workers, who see a host of benefits. As the Indiana Institute for Working Families' report "Paid Family and Medical Leave: Policy Analysis & Recommendations for Indiana" found, employers cite retention, morale and productivity as reasons to love paid leave. Employees, who are prioritizing work-life balance more and more these days, see reduced stress and greater economic security.

Paid family- and medical-leave programs are also important to the well-being of the entire community. Paid leave reduces infant mortality, increases well-child checks, and provides a greater ability for seniors to age in place, cutting elder-care costs.
In other words, paid family and medical leave supports workers, benefits businesses, and improves community well-being. Instead of deciding whether to have these programs, the debate should move on to how we provide them.

We should examine the models that are already working in a number of other states to provide paid family and medical leave to all workers. In those states, paid leave is funded through small—and we're talking the equivalent of a cup of coffee a week small—payroll deductions into a state fund. In some cases, employers also chip in. Then, when an employee becomes a new dad or has a parent in hospice, he can draw from the pooled funds and his employer is able to use the money it would typically spend on wages for that employee to hire a temporary replacement or offer overtime to other workers. It's a win-win for all involved.

It's time for Hoosiers to come together and talk about how to make paid leave a reality. A smart policy that facilitates the provision of paid time off without overburdening employees and employers would be a worthwhile investment in our families and our economy.•

Click here for more Forefront columns.

__________

Macey is a policy analyst with the Indiana Institute for Working Families. Send comments to ibjedit@ibj.com.