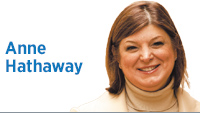 Does your vote really count?
Many Americans and Hoosiers have lost faith in the power of democracy and value of their vote. Out of the 35 developed countries—with advanced economies and heavy use of technology—the United States ranks 31st in voter turnout, according to a Pew Research Center study. If you are one of the many asking yourself whether your vote really counts, I can tell you primary elections are where your vote has the most power.
Today, more than 4.4 million Hoosiers are registered to vote, which makes up more than 66 percent of Indiana's population. Yet in the 2014 primary election, the last time the state held a primary in a non-presidential year, turnout was just 13.5 percent. This means just 895,000 Hoosiers represented the voice of more than 6.6 million people living in Indiana.
That is disappointing. In many Indiana communities, the primary is where the real choices are made. To be sure, this year will feature a heated contest to choose the Republican candidate for U.S. Senate, but just as important, voters will choose candidates for local offices—including sheriff, prosecutor and clerk—that have a more significant impact on the everyday lives of Hoosiers.
So why aren't people voting? The answers don't come easy.
According to one 2017 Yale University study, the turnout drop between general and primary elections comes down to a few main causes. First is the idea that many voters view primary elections as an exercise in candidate selection, rather than the higher-stakes selection of elected officials that takes place in a general election. As a result, voters subconsciously find these races less important, while simultaneously facing less social pressure to vote.
In addition, the same Yale study found that voters—not viewing themselves as strictly partisan—are deferential in the primary to those who are more highly partisan (and more likely to vote for their respective party in the general election) and who know and care more about the results of the primary.
For their part, political campaigns likely aren't helping alleviate these problems.
When working with political campaigns, we advise candidates to devise a strategy directly related to those voters expected to turn out. It should be no surprise, then, that primary campaigns today are targeted directly at Hoosiers most likely to turn out on May 8—the hyper-partisans—thus further perpetuating our growing turnout problem.
I think we can do better. Engagement in our electoral process is a two-way street.
With more and more races effectively decided in the primary, I hope more Hoosiers will decide they have an important voice in this process and vote in the primary election on May 8, regardless of party.
It is more convenient than ever to vote. Early voting is already underway in Indiana. You can cast your vote in a local clerk's office by May 7. If you choose to vote absentee, ballot applications must be submitted by April 30. Of course, polls will be open on May 8 from 6 a.m. to 6 p.m. You can always find out more about voting in Indiana by visiting www.indianavoters.in.gov.
Decisions are made by those who show up: Hoosiers should not let someone else decide for them.•
Click here for more Forefront columns.
__________
Hathaway is president and CEO of Hathaway Strategies, chairwoman of the Julian Center board and former chief of staff of the Republican National Committee. Send comments to [email protected]
Please enable JavaScript to view this content.