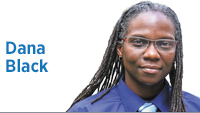 When Gov. Eric Holcomb outlined his 2018 Next Level Agenda, among his lofty initiatives was creating a much stronger and more attractive workforce. And during the 2018 session of the General Assembly, despite lawmakers' inability to complete all their work on time, they did manage to introduce legislation that would improve workforce development.
House Bill 1002 will add more dollars to the state's workforce development program, and Senate Bill 50 changes oversight on how those dollars are spent. Both bills are admirable as they address one of the reasons Indiana has a reported 95,000 job opportunities going unfilled.
But let's look at Indiana and its desire to fill those roles from a holistic point of few.
With an unemployment rate of about 3.2 percent, job training and career retooling is just one of the solutions to consider. There's something else we need to discuss: the quality of life for Hoosiers. And until we as a state are willing to address this, we will continue to struggle with attracting the best talent and higher-paying career options.
We all know we don't have miles and miles of beach-front property overlooking pristine gulf shores or oceans. Nor do we have mountains to ski down for a winter getaway. Brown County is awesome with its fall natural beauty, but Indiana simply does not have some of the natural landscape that would invite young, active, outdoor-loving people to consider moving to our state.
Add to that the social climate created from our Statehouse:
◗ RFRA, a bill signed by our previous governor designed to allow discrimination against an already-marginalized group that was disguised as a bill to protect religious freedom.
◗ HB 1337, a bill signed to continually make it more difficult for women to make their own family-planning decisions, which was later overturned by the Indiana Supreme Court as unconstitutional.
◗ SB 309, a bill signed by our current governor to discourage renewable energy and continue to keep Indiana at 48th in the nation in air quality. Got asthma? You probably shouldn't move to Indiana. For the life of me, I can't figure out why clean air is a partisan issue.
State leaders love to say we attract industry and jobs to Indiana—and for the most part we do. Our corporate tax rate is one of the lowest in the nation, and we love to offer tax abatements to any company who looks our way.
But significant cuts in revenue also means cuts in funding for public education and teacher salaries; this helps to exacerbate our current teacher shortage. Those cuts also mean many of our state infrastructure needs go unaddressed, and I'm not talking about just roads and bridges. Services we should be providing like child protective services are hampered. Over the past several months, we have all been awakened to the plight of the Department of Child Services and the number of children at risk because of budgetary constraints.
All of this makes one ask: What is the quality of life like in Indiana? Given a choice, who wants to move where the roads are crappy, one could experience discrimination in public accommodations and poor air quality?
With Notre Dame, Valparaiso, Rose-Hulman, Ball State, Purdue, Indiana University, Indiana State University and Butler, Indiana has some of the best colleges and universities in the nation. We have one of the best community college systems in Ivy Tech. Training folks isn't the issue; maintaining trained folks is.
Because of the quality-of-life concerns, Indiana has become the exporter of talent and not an importer of talent and, until we are willing to address this issue, no amount of extra money will fill those 95,000 jobs.•
Click here for more Forefront columns.
__________
Black is deputy chairwoman for engagement for the Indiana Democratic Party and a former candidate for the Indiana House. Send comments to [email protected]
Please enable JavaScript to view this content.