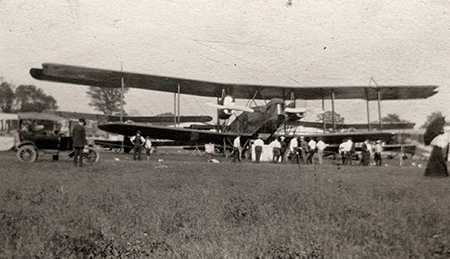 A new state historical marker pays homage to the role the Indianapolis Motor Speedway and adjacent areas played in keeping the nation's pilots flying during World War I.
The marker commemorating the town of Speedway's wartime aviation repair depot was dedicated April 24 by the Indiana Historical Bureau.
The marker is just south of 1151 N. Main St. in Speedway, between Gilman Street and Ford Street.
The U.S. Army opened the depot in early 1918 to capitalize on the area's strategic position near military airfields, railroads and industry.
The famed auto race was canceled during the war and its sprawling site provided hangars and a flight test field for pilots.
Ground crews worked at sites across Speedway to repair aircraft in what became an innovative aviation hub. Those crews repaired, modified and tested aircraft and their engines.
The marker notes that U.S. entry into World War I spurred a rapid expansion of the aviation industry in the country. It says the 809th, 810th, 811th and 821st Aero Squadrons repaired, modified and tested training aircraft and engines at the Speedway hub.
Italian Pomilio Brothers Corp. developed aircraft in Speedway for the Liberty engine produced by Nordyke & Marmon with parts by Allison Experimental Co., the marker says. The depot repaired 313 planes and 350 engines in 1918. By fall 1920, it had ceased operations.
State historical markers commemorate significant individuals, organizations, places and events—to promote, preserve and present state history.
More than 630 of the markers have been installed in Indiana.•
Please enable JavaScript to view this content.