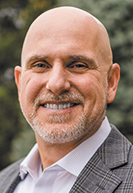 A report published by ProPublica lists Republican state Sen. Scott Baldwin of Noblesville as a member of the far-right Oath Keepers militia group, but he denies it.
Baldwin released a statement on Thursday saying the only interaction he had with the group was in April 2010. He said he donated $30 while he was running for Hamilton County sheriff, under the impression that the group was a Second Amendment rights organization. He said he has not had any communication with the Oath Keepers since then.
"I initially had no recollection or familiarity with the organization, but have since discovered that back in April 2010, more than 11 years ago, when I was running for county sheriff, an advocate for the organization described it to me as a 2nd Amendment rights group, and I donated $30," Baldwin said in the statement. "I haven't had any interaction or communication since. Recent media reports indicate that the group has changed significantly since its founding in 2009."
The Oath Keepers, founded in 2009, spent most of its existence under the radar, until this year when the group came under scrutiny for its alleged role in the attack on the U.S. Capitol on Jan. 6.
Dozens of members have been arrested in connection with the Jan. 6 insurrection, including Indiana native and heavy metal guitarist Jon Ryan Schaffer. Schaffer was the first defendant to plead guilty to federal charges in April this year.
Although Baldwin said his only interaction was the one-time donation, the Oath Keepers listed him as an "annual member," according to ProPublica, which defined members as those who pay the organization $50 per year.
Baldwin is the CEO and owner of Indianapolis-based Envoy Inc. He was a U.S. Marine and an Indianapolis police officer. He was elected to the Indiana Senate in 2020, taking the seat vacated by now U.S. Rep. Victoria Spartz.
Senate President Pro Tem Rodric Bray, R-Martinsville, said in a statement that he is not concerned with Baldwin's name showing up on the Oath Keepers membership list because he is not a standing member of the group.
"Sen. Baldwin has indicated he is not a member of the group. In his time in the Indiana Senate, Sen. Baldwin has been a very thoughtful and capable leader for us on a number of subjects," Bray said.
ProPublica reported it obtained the list of more than 35,000 members of the Oath Keepers from an anonymous hacker who shared it with ProPublica through the whistleblower group Distributed Denial of Secrets.
The report says 48 state and local elected officials around the country, all Republicans, are listed as members. Ten are sitting state lawmakers, two are former state representatives and one is a current state assembly candidate.
Buzzfeed, which also obtained the list, reported that Elkhart County Commissioner and former sheriff Brad Rogers was among the listed members. He told Buzzfeed that he had quit the group years ago because it was "going down a path talking about violence and things of that nature."
The Indiana Democratic Party is calling for Baldwin and the Indiana GOP to publicly denounce the Oath Keepers, and for Baldwin to reexamine if he is fit for office, Chairman Mike Schmuhl said in a written statement.
"It's alarming to see the Indiana Republican Party connected to the domestic terrorist organization responsible for the January 6 Insurrection and the attempt to overthrow the United States government," Schmuhl said in the statement. "State Senator Scott Baldwin's membership to this extremist group invalidates Hoosier and American values, and in normal times, would disqualify him from holding this office."
Indiana GOP Chairman Kyle Hupfer did not immediately respond to a request for comment from IBJ.
Please enable JavaScript to view this content.