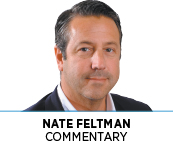 Ever find yourself confused about what U.S. policy should be toward Russia after its invasion of Ukraine and seizure of Crimea, its support of Assad's murderous regime in Syria, and its apparent meddling in U.S. elections? Wonder what we should do about the North Korean nuclear threat? Concerned about China's growing influence and military might?
What if I told you that you could talk with and learn from some of the brightest minds in foreign policy, including two recipients of the Presidential Medal of Freedom, a former executive director for the United Nations World Food Program, a former ambassador to Russia, a former ambassador to Poland, a former U.S. ambassador to the United Nations and a sitting U.S. senator?
That is just the opportunity I had at last month's Indiana University School of Global and International Studies event titled "America's Role in the World."
The Presidential Medal of Freedom recipients we heard from were former U.S. Sen. Richard Lugar and former U.S. Rep. Lee Hamilton. At ages 86 and 87, respectively (and both still sharp as a tack), Lugar and Hamilton are Indiana living legends and models of what it means to serve publicly in a bipartisan fashion. Instead of focusing on divisive issues, they brought their parties along with them on matters important to America's security by arguing forcefully that country comes first. Both Lugar and Hamilton spoke of the importance of America's leadership in the world on a range of international issues.
Lugar's hallmark work with Democratic Sen. Sam Nunn on the Nunn-Lugar Cooperative Threat Reduction Program, which eliminated more than 7,500 nuclear warheads in the former Soviet Union, is arguably second only to the Marshall Plan in its importance in U.S. foreign policy history. The law provided funding for the decommissioning of weapons of mass destruction in many former Soviet states. Without Lugar's work, we would have many more countries with nuclear arms, and the risk of such weapons falling into the hands of terrorists would have been higher.
Hamilton represented Indiana's 9th District as a Democrat for 34 years and served as chairman of the House Committee on Foreign Affairs and the House Select Committee to Investigate Covert Arms Transactions with Iran. He chose to put country before politics when he` decided to forgo investigations of President Reagan and President George H.W. Bush in the Iran-Contra Affair. After 9/11, Hamilton was appointed by President George W. Bush to serve as vice chairman of the 9/11 Commission, which made recommendations that have helped guard us against future terrorist attacks.
Sen. Todd Young and Jim Morris (former executive director of the UN World Food Program) spoke about the importance investment in global food security. Former ambassador to Russia James Collins explained his views of how we engage Putin's Russia. Former U.N. Ambassador Samantha Power discussed President Obama's red line in Syria, the Iran nuclear deal and the North Korean threat. And former ambassador to Poland Lee Feinstein, now dean of the global school, invited us back for next year's conference.
How refreshing it was to hear civil conversations with foreign-policy experts with varying political viewpoints. Do yourself a favor if you have an interest in what is happening globally—attend next year's conference. I promise you'll walk away with a better understanding of how America should tackle global challenges.•
__________
Feltman, a former Indiana secretary of commerce, is a shareholder in IBJ Corp., which owns Indianapolis Business Journal. To comment, send email to nfeltman@ibj.com.
 
Please enable JavaScript to view this content.