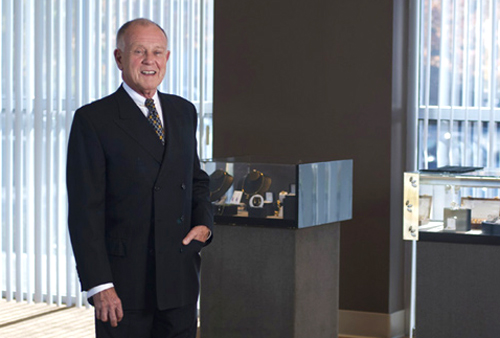 Harry Gaunt Jewelers is closing after 60 years in business because its 86-year-old owner and namesake has decided it is finally time to retire.
The store at 8301 N. Keystone Ave. kicked off its going-out-of-business sale Friday.
Gaunt's daughter, Stephanie Vanderwilt, said the store will remain open until its stock runs out.
"We'll be doing the sale until we run out of jewelry—we think maybe a couple of months," Vanderwilt told IBJ.
Vanderwilt said her father has been in the business since the mid-1950s. His original stores were in Muncie, with the first in the Village area adjacent to Ball State University's campus. He later added a second store downtown.
Gaunt opened a third store in Lafayette, but he tired of traveling between the stores, so he decided to consolidate to one Indianapolis location, Vanderwilt said.
The Indianapolis store started out as a tenant of the Fashion Mall at Keystone in 1980 and moved south to its current location 10 years ago.
The store is known for its unique selection—Harry Gaunt designs all of the jewelry he sells.
"All my stuff is unusual—has character," Gaunt said in written remarks. "It is the difference between art and the ordinary."
 Vanderwilt said this fact is one reason her father has remained in business for so long. 
"He loves his work and so he just kept working," Vanderwilt said. "The pieces he does are really emotional and important to people."
Gaunt's father, Ralph, was a jeweler and watchmaker in the Indiana town of Dunkirk, and Harry decided to follow in his father's footsteps.
Once the store closes, Gaunt plans to move to Texas to live with Vanderwilt. She is in town temporarily to help her father wind down his business.
Please enable JavaScript to view this content.