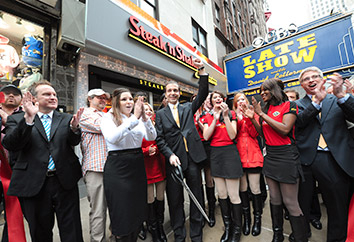 Shares of Steak n Shake's parent company plunged 20 percent on Friday after shareholders approved a controversial plan to create two classes of stock—a move that strengthens CEO Sardar Biglari's grip on the company.
The outcome of Thursday's Biglari Holdings Inc. vote was a foregone conclusion because the 40-year-old entrepreneur controls 55 percent of the shares.
Hours after the vote, Standard & Poor's disclosed that because of the dual-class structure, Biglari Holdings shares were "were no longer appropriate for continued inclusion" in the SmallCap 600 index and would be removed this week. The change will spur fund managers whose holdings are tied to the index to unload their Biglari Holdings shares.
On Friday, shares tumbled $84.88 to close at $338.40, wiping out $178 million in market value.
The restructuring arms Sardar Biglari with a new class of shares with no voting power that he can use as currency in acquisitions without diluting his voting power. Shareholders would receive one non-voting share and one-tenth of a voting share for each existing share.
Sardar Biglari's critics have sharply criticized the restructuring, and shareholders have filed two suits in Hamilton County charging unjust enrichment and breaches of fiduciary duty.
A lawsuit filed in late January by a client of the Indianapolis law firm Price Waicukauski Joven & Catlin LLC put it bluntly: "This class action challenges a self-interested scheme to reorganize Biglari Holdings' corporate structure for the express purpose of ensuring S. Biglari's control over the company … in perpetuity."
The suits initially sought an injunction blocking the shareholder vote. Attorneys for the plaintiffs dropped that motion after the company said the restructuring could be unwound if the court ultimately sides with the plaintiffs, according to the San Antonio Express-News.
In addition to owning Indianapolis-based Steak n Shake, San Antonio-based Biglari Holdings owns an insurance company, the men's magazine Maxim, Western Sizzlin, and a 20-percent stake in Cracker Barrel. 
Sardar Biglari gained control of Steak n Shake a decade ago, turning around the struggling chain by implementing a value-pricing strategy that translated into 29 straight quarters of same-store sales increases before hitting a rough stretch in 2016 that continues today.
Along the way, he has stirred up plenty of controversy. Several investor lawsuits bashed a 2013 deal under which Sardar Biglari licensed the "Biglari" name to the company for 20 years. Biglari won't receive royalties if he remains atop the company, but if it were sold, or if he were forced out for anything but malfeasance, he'd receive 2.5 percent of sales for five years—a sum that could surpass $100 million.
Since May 2009, Biglari Holdings shares have performed roughly in line with the S&P 500, according to Jonathan Heller, president of Pennsylvania-based KEJ Financial Advisors and a columnist on TheStreet.com.
But he noted in a column that the stock rocketed 175 percent higher in 2009. Since 2010, Biglari Holdings shares have risen by about 50 percent, well below the S&P 500's 139 percent increase.
"While the company has grown assets and book value significantly over the years, the share price has not followed, at least in recent years," Heller wrote last week. "Part of that, in my view is due to a complicated structure [and] distrust of management."
Please enable JavaScript to view this content.