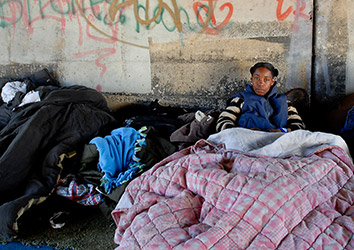 The annual count of people in Indianapolis experiencing homelessness dropped 6 percent from last year to this year, according to numbers from a point-in-time survey announced Wednesday by the city. 
The decrease was taken as a positive sign by city leaders who are trying to increase efforts to provide more people with permanent housing.
The Coalition for Homelessness Intervention and Prevention found that on Jan. 24—the night of the count—there were 1,682 people in Indianapolis experiencing homelessness—a 101-person decrease from last year's count of 1,783.
The count tracks people who are unsheltered or sheltered in emergency shelters, transitional housing or safe havens. The count is required for cities to receive funding from the U.S. Department of Housing and Urban Development.
Mayor Joe Hogsett said the figures were "promising news," but he pledged that more resources would go to support the community because "having a place to call home is something we must strive to provide every single one of our fellow residents and neighbors."
Hogsett vowed in his state-of-the-city address last year that the city would create an additional 400 units of permanent supportive housing for homeless residents, a goal he said had been fulfilled.
He said this year the goal will be on providing rental assistance and other wraparound support to help people into housing and keep them in it.
While the overall news was good, there was an 8 percent increase in the number of unsheltered homeless individuals from last year to this year—meaning people who aren't currently receiving services.
Among the 1,682 people, 12 percent are experiencing chronic homelessness, meaning that they have been continuously homeless for at least a year or have had at least four episodes of homelessness in the past three years.
Fifty-six percent of the people counted were African-American and 40 percent were Caucasian. Fifteen percent of those counted were 17 or younger.
About 26 percent had a substance abuse disorder, 34 percent reported having a serious mental illness and 53 percent have some form of disability.
About 80 percent of the women who were included in the count were fleeing domestic violence, and four women counted were pregnant.
CHIP executive director Alan Witchey said "conditions like substance abuse, mental illness, having a physical or developmental disability or other chronic health conditions, as well as having a prior felony on your record, can make it difficult for individuals to achieve housing stability."
"That is why we must continue to work together in our community to create programs that give these individuals involved the best chance for success by addressing the root causes of their homelessness in a safe, stable environment," Witchey said.
Please enable JavaScript to view this content.