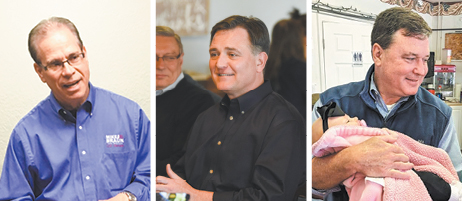 With only a few days left until primary Election Day, Indiana's U.S. Senate race is already among the most expensive in the country.
Three Republican challengers and the incumbent Democrat have raised nearly $22 million and spent nearly $14 million.
According to the Center for Responsive Politics, that ranks Indiana's Senate race sixth in the nation in the amount of money raised by candidates and third in the amount spent by the campaigns.
Plus, at least $10.7 million had poured into the Indiana race from outside groups by May 1, meaning nearly $25 million has been spent altogether.
The three candidates in the GOP primary—U.S. Reps. Luke Messer and Todd Rokita and former state lawmaker and Jasper businessman Mike Braun—have collectively raised close to $12 million and spent more than $10 million, according to the most recent available data from the Federal Election Commission.
The winner of the May 8 primary will face Democratic Sen. Joe Donnelly in the fall, in what is expected to be one of the most watched, most competitive and most expensive races in the nation.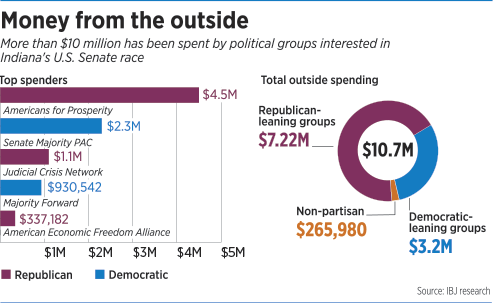 Donnelly, who is finishing his first term in the Senate, had raised $9.9 million as of April 18, and spent $3.7 million. He's heading into the general election season with nearly $6.2 million in the bank.
Messer, Rokita and Braun each had roughly $1 million or so in cash on hand as of April 18. And that's enough to be successful, according to Michael Malbin, executive director of the Washington, D.C.-based Campaign Finance Institute.
"In primaries, as long as you have some basic amount of money so you can get your message out, there's not much of a relationship between the amount of money raised and who's likely to win and who's less likely to win," Malbin said.
In fact, nearly all the candidates had more cash on hand on April 18 than did the two Republicans—then-U.S. Rep. Todd Young and former Rep. Marlin Stutzman—running in the GOP Senate primary in 2016.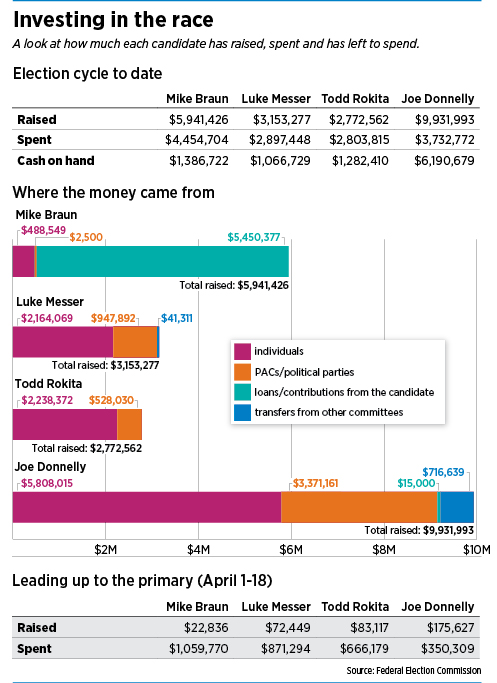 Young, who won that primary and then the general election, had $1.09 million in the bank at that time, while Stutzman had $491,000. Messer falls just short of the amount Young had remaining, with $1.07 million on hand.
Messer and Rokita have both raised and spent less than Young but more than Stutzman at this point in the campaign.
And Braun has outspent Stutzman and Young combined—and he has more campaign cash, although the majority of the funding has come from money he's loaned the campaign.
"Is it better to have more than less? Yes, of course," Malbin said. "But chances are pretty good that they have good name recognition in the state at this point."
In the 2012 GOP primary, when then-Indiana Treasurer Richard Mourdock defeated longtime Sen. Richard Lugar, Lugar had significantly more cash on hand than Mourdock in the final weeks of the campaign.
Lugar had also spent more than three times the amount Mourdock had.
During the first half of April, though, the 2012 candidates showed similar fundraising levels—Mourdock brought in $111,500 while Lugar received $184,000.
First-quarter slowdown
This year, the start of April wasn't as fruitful for the candidates. Collectively, all three raised only $178,402. None of the Republicans hit the six-figure mark alone.
The first-quarter numbers also weren't impressive for Messer and Rokita, according to Kyle Kondik, managing editor of the University of Virginia Center for Politics' Crystal Ball. Senate candidates typically bring in seven-figure dollar amounts per quarter, Kondik said, but Messer and Rokita hit only six figures.
Braun reported raising $2.3 million in the first quarter, but nearly all of that—$2.2 million—came from a personal loan.
Of the four GOP candidates in the Senate primaries in 2016 and 2012, none hit the seven-figure threshold in the first quarter, but they did all raise more than Messer and Rokita in that time period.
Malbin said in a toss-up race like this one, in which the three candidates have struggled to differentiate themselves, donors can hold back their contributions because they're unsure whom to support.
"There's going to be a lot of interest in this general election," Malbin said. "But that doesn't mean that there's a huge strong feeling about one [Republican] versus the other."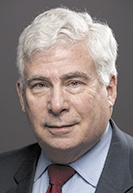 Lenkowsky
Leslie Lenkowsky, Indiana University professor emeritus of public affairs, said lower fundraising figures in the first quarter shouldn't be a problem for the campaigns, because they all still have more than $1 million in cash on hand.
"You build up the war chest early in order to spend it," Lenkowsky said. "And that's what it looks like they're doing."
Some of the candidates' funding can't be spent before the primary because the donations have been earmarked for the general election cycle. Individuals are limited in the amount they can give for the primary and the general election.
As of April 18, Messer had about $542,000 available to spend before the primary and Rokita had about $829,000.
Braun's campaign is largely unaffected by those restrictions because the rules don't apply to money he's lent his campaign, and he has received only $54,500 in donations for the general election.
Of course, the cash-on-hand balances as of April 18 have almost certainly changed, as the candidates have continued to spend through the rest of April and beginning of May.
"Unless you're Donnelly, you really want to empty the bank as much as you need to as you get closer to the primary," Lenkowsky said.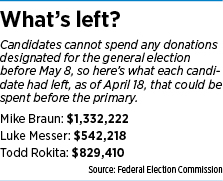 Broadcast spending
A majority of the campaign funds have gone to radio and TV advertising, with the three Republicans spending at least $6.5 million so far.
Since the beginning of the year, Messer has spent at least $1.5 million on advertising. It appears his biggest target is TV commercials in Indianapolis.
In the Indianapolis market alone, he has spent at least $885,000 just on 30-second broadcast TV ads.
He's also putting money toward cable advertising and radio, but that's only a fraction of his broadcast costs.
Braun has invested the most in advertising, with at least $3.8 million spent so far.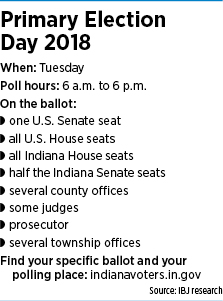 He's spreading his message more broadly around the state. While he is advertising in the Indianapolis area, his reach in that market is actually fourth behind Fort Wayne, South Bend and Evansville.
Rokita comes in third for advertising costs so far, with at least $1.2 million invested. His biggest target area appears to be Fort Wayne, followed by Indianapolis.
The TV ad investments dropped significantly for the Rokita and Braun campaigns in the beginning of May, while Messer still bought at least the same amount—if not more—than he had at the end of April.
Braun has been the only candidate airing radio ads since April 23.
In the final days of a campaign, throwing large amounts of money into ads doesn't really matter, experts say.
"The TV buys become less important the closer you get to the primary," Lenkowsky said.
Instead, a strong get-out-the-vote effort and more targeted, cheaper marketing like social media typically has the biggest impact.
And that's where Rokita and Messer might have a leg up on Braun, because they have more experience running campaigns.
"You'd expect his field operation might be less established," Lenkowsky said.
It's possible Braun will try to combat that by spending more on advertising, Lenkowsky said, but "everything we know suggests that that doesn't really offset a good ground game."•
Please enable JavaScript to view this content.