An Indianapolis not-for-profit that helps ex-offenders transition back into the workforce plans to construct a $10 million building on east-side property where it once operated.

RecycleForce called Sherman Park home until 2012, when it moved out of the former RCA/Thomson Consumer Electronics plant and into the Circle City Industrial Complex on East Brookside Avenue near downtown.

The organization that recycles electronics has been somewhat of a nomad since last fall, exiting the complex in October after suing landlord Teagen Development Inc., accusing it of wrongful eviction after failing to fix a leaky roof. Indianapolis-based Teagen responded by filing a countersuit. Both accuse each other of breaching the contract and have yet to resolve the dispute.

In the meantime, RecycleForce has temporarily settled into a building near the old Massachusetts Avenue industrial corridor to the north of Teagen's complex.

But the 18-month legal battle continues to linger over RecycleForce as it attempts to begin raising money from donors to fund construction of a 105,000-square-foot building at Sherman Park.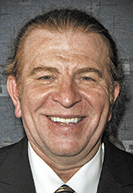 Keesling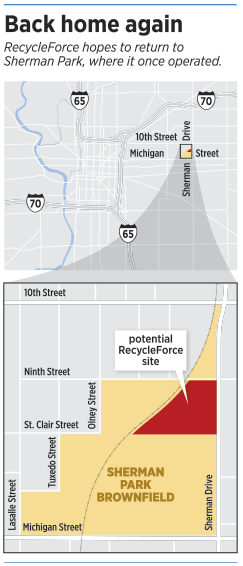 "We're coming home," RecycleForce President Gregg Keesling said. "This is where we belong."

RecycleForce cleared a first step on April 12 by receiving approval from the Metropolitan Development Commission's Hearing Examiner to rezone 7.8 acres at Sherman Park, a 50-acre brownfield site at the northwest corner of East Michigan Street and North Sherman Drive.

The city took possession in 2017 of what was an industrial eyesore after Bloomington investor group SP Investments LLC failed to pay back taxes totaling $901,000 and couldn't deliver on its redevelopment plans.

Crews have demolished the 13 buildings and cleared the property, including the large television factory RecycleForce once called home, setting the stage for future development.

The factory produced TV components for most of its history and employed as many as 8,200 people in the 1950s. The plant closed in 1995 after the workforce dwindled and RCA brand owner Thomson Consumer Electronics moved its headquarters to Carmel.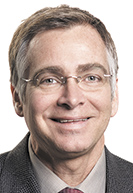 Hay
Near East Area Renewal, which partners with organizations to spur revitalization in 20 east-side neighborhoods, is working with residents to explore options for the land. The Rivoli Park neighborhood where Sherman Park sits could use the help. Its median household income is $26,165, less than half the metropolitan area's median income of $56,750, according to the U.S. Census Bureau.

NEAR envisions light industrial mixed with apartment units and commercial space, said John Franklin Hay, NEAR's executive director.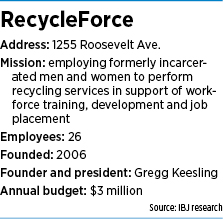 Hay's group is preparing a reuse plan for the acreage and hopes to have it finished in late summer, when it will be presented for public input. In the meantime, Hay said, he supports RecycleForce and its plans to return to Sherman Park.

"Most everybody on the near-east side likes RecycleForce and respects their work," he said. "Where they're locating would have the least effect on the overall planning of the site."

RecycleForce is seeking to construct the facility at the northeast corner of the site. At 105,000 square feet, the building would be larger than the 67,000 square feet it's in now and would allow more room for growth.

Founded by Keesling in 2006, RecycleForce is not as large as it once was. Its revenue the past four years has fallen from $6 million to $4 million and employment from 85 to 26. Keesling attributes the declines to the smaller space the not-for-profit is in now and the troubles it experienced at the industrial complex, in addition to an improved economy that has made it harder to hire employees, even if they are hampered by past arrests.

City officials hope RecycleForce can regain its momentum by moving back to Sherman Park.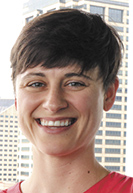 Martin
"Theyre looking to expand their operations, so they'll be able to hire more people and do some workforce training onsite," said Scarlett Martin, a city project manager. "We are super excited about it."

The building where RecycleForce currently operates is owned by Stenz Corp. It sits just west of where the local developer plans to convert a ramshackle complex of buildings along the old Massachusetts Avenue industrial corridor into a $15 million mixed-use project with expansive work, fitness and gathering space.

RecycleForce moved in October to the Stenz building, where International Paper formerly operated, breaking its 13-year lease with Teagen Development at the industrial complex.

The move came nearly a year after RecycleForce filed suit in November 2016 against Teagen.

The complaint says the roof over the RecycleForce space at the east end of the building had leaked since at least June 2015, resulting in significant amounts of water pouring in during heavy rains and interfering with operations.

RecycleForce retained Westfield-based STR Building Resources LLC to inspect the space. The engineering consulting firm concluded that "moisture infiltration of the roof system is inevitable with the vast number of open flashings, holes and splits," according to the lawsuit.

"I think it's outrageous, what has happened to this charity and the treatment it received by its previous landlord," said Mark Voigtmann, a partner at Faegre Baker Daniels who is representing RecycleForce.

Teagen Development, in turn, quickly responded with a counterclaim, charging that RecycleForce breached its lease by failing to pay rent, failing to pay its share of insurance and utilities, performing alterations to the space without approval, and damaging internal roof drains.

Jeffrey Bellamy, the attorney for Teagen Development owner Larry Jones, didn't return phone calls from IBJ seeking comment. Reached by phone, Jones declined to comment, saying he'll "let the litigation speak for itself."

A trial date has not been set, and it appears both sides so far are unwilling to bend.

"[Jones] sends me a bill every month for rent," Keesling said. "I'm not going to pay it."•