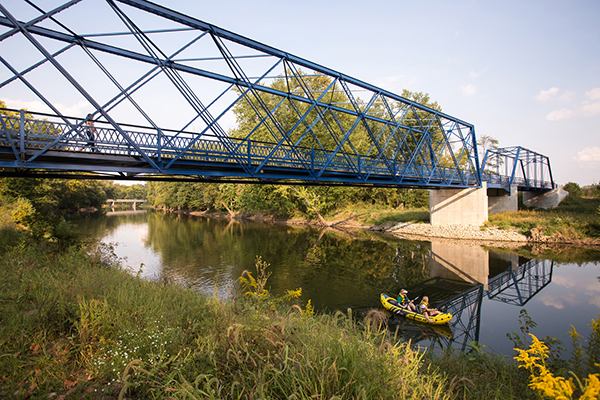 Officials from Marion and Hamilton counties are set to take a big step Thursday morning toward transforming the White River into a greater recreational asset for central Indiana.
They are slated to join regional leaders at 9 a.m. at the Indianapolis Art Center to kick off the master plan process, aimed at revitalizing a 58-mile stretch of the river, spanning from northern Hamilton County to southern Marion County.
"We don't have mountains, we don't have oceans, but we have this amazing opportunity," said Emily Mack, director of the city's Department of Metropolitan Development.
The DMD and Hamilton County Tourism Inc. partnered in July to issue a request for qualifications to select a firm to lead master planning. A selection committee narrowed the nine respondents to three before selecting Boston-based architectural firm Sasaki.
Gina Ford, a landscape architect, and Brie Hensold, an urban planner, are leading the effort. They have since left Sasaki to form Cambridge, Massachusetts-based Agency Landscape + Planning but have retained the White River contract.
The long-term goal of the project is to develop a comprehensive and coordinated regional effort to enhance the White River. Leaders of the effort will meet with the public during the next 12 months to formulate the plan.
Taking a ride on a pontoon boat or enjoying a concert along the river could be ways to enhance activity along the waterway, Mack said.
Improvements along the river would be funded by a combination of public and private dollars. The amount that needs to be raised would depend upon what the plan recommends, she said.
Visit Indy supports the plan. The organization's CEO, Leonard Hoops, said he hopes one day that Indianapolis can become more like Paris. Neither has mountains nor oceans, but each has a river flowing through it. Paris, however, had a much bigger head start in utilizing the Seine, Hoops acknowledged.
"If we can take advantage of the river, we can advance the experience of central Indiana well beyond what it is today," he said.
DMD Planning Administrator Brad Beaubien said the planning process couldn't have started without Dig Indy—a $2 billion investment to improve waterways. The DigIndy tunnel system is a 28-mile-long network of tunnels being built 250 feet below ground to eliminate sewer overflows to area waterways by 2025. The system keeps millions of pounds of sewage out of the White River.
The objective is to collaborate on a plan that will benefit both Hamilton and Marion counties, said Brenda Myers, president and CEO of Hamilton County Tourism Inc.
"We want to complement each other, not compete," she said.
Please enable JavaScript to view this content.