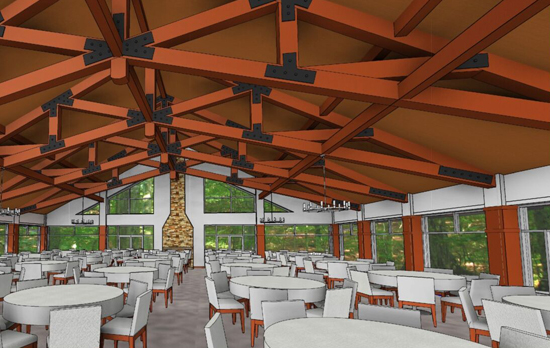 Conner Prairie is teaming with Carmel-based hospitality company Ritz Charles on a $3 million project that will renovate the historic Chinese House at the Fishers living history museum and add an event venue along the White River. The partnership was announced Thursday morning.
Renovations on the 111-year-old Chinese House, near 131st Street and Allisonville Road, have been in the works for more than a year, but the latest development is a hospitality pavilion called the Bluffs at Conner Prairie.
Museum officials said the "stunning event venue perched on the bluffs of the White River" will have a 250-person occupancy and be available for weddings, receptions, social galas, parties and corporate events."
Design plans call for the events pavilion to be enclosed with glass on three sides, offering views of the river and the old-growth wooded grounds.
Ritz Charles, which is providing the majority of the funding for the construction of the pavilion, will receive exclusive operating rights to provide food and beverage services at the venue and the Chinese House.
Ritz Charles will pay undisclosed amount of rent for the new facility that will go toward programming at the museum
Work on the project is expected to be mostly complete by Jan. 31, 2019, the museum said.
Conner Prairie announced in January 2017 that it was planning a  $1.4 million renovation of the Chinese House. Most of the funding was provided by a $500,000 donation from the Lilly Endowment and another $500,000 gift from Jay and Nancy Ricker. Jay Ricker is the chairman of the board of directors for Conner Prairie and chairman of Anderson-based Ricker Oil Co.
The additional hospitality pavilion will more than double the original projected cost of the project.
The Chinese House was built in 1907 by the Atkins family of Indianapolis on land originally owned by William Conner. Indianapolis automobile industry executive Eugene Haslet Darrach purchased the house and property in 1915.
Eli Lilly, then president of Eli Lilly and Co., acquired the home in the late 1940s to use as a family country retreat. He gave the house its name after decorating it with Asian furniture and having Chinese symbols painted on the ceilings.
Conner Prairie has used the 925-square-foot building as a small event venue, with room for about 65 guests.
"The renovated Chinese House will provide guests a great connection to Conner Prairie's past and a gateway to our future," Conner Prairie President CEO Norman Burns said in written remarks. "Visitors will get to experience Eli Lilly's former retreat and his love for Chinese culture while having access to nature, views of the White River and a beautifully renovated space for their events."
Ritz Charles is best known for 15,000-square-foot event facility at 12156 N. Meridian St. The 33-year-old company ranked as the second-largest caterer in the Indianapolis area in 2017, with $8.7 million in gross catering sales.
Please enable JavaScript to view this content.