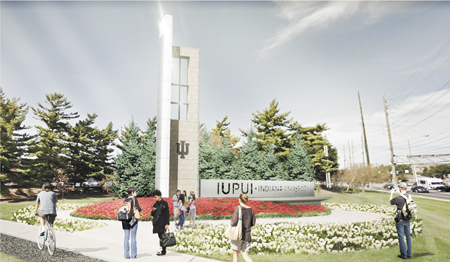 IUPUI plans to create five entrances into campus with significant markers to serve as gateways, including one that will stand 52 feet tall, as part of its ongoing effort to further build an identity that sheds its commuter-school image.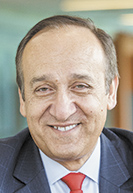 Paydar
University officials have identified key entry points around the sprawling campus—two on the east side along West Street, two on the west side near the White River bridge and one to the north on University Boulevard—where they want the signage erected.
The cost is expected to top $1 million and should be covered by contributions the university is seeking from donors, Chancellor Nasser Paydar said.
"This is a large campus with 100 buildings," he said. "We want to make it easier for the community to come and participate in our programs and make it feel like there is something special about this campus."
IUPUI traces its roots back to 1891, when Indiana University offered classes for the first time in Indianapolis. In the decades that followed, both IU and Purdue University offered programs in the city.
But it wasn't until 1969 that the two universities merged their programs and schools to create IUPUI. Lacking on-campus and downtown housing options, most students typically commuted to class. That's beginning to change, however.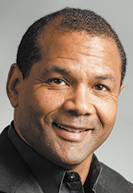 Bryant
IUPUI now has housing available for 2,400 students following the 2016 completion of the $45 million North Hall. Private developers also are getting into the game, building student-housing projects within walking distance of campus.
The university is responding by accepting more younger students and far fewer older applicants who might have sought to return to school or better their education. Last fall, 99 percent of incoming freshmen were teenagers, most of whom want to live on campus or nearby, Paydar said.
To make the campus more welcoming for both students and visitors, university officials last year formed task forces to examine the issue and make recommendations.
From those came the gateways, in addition to plans for more gathering spaces and signage to help guide visitors.
"We felt that it's good to show the pride that we have in our institution by declaring where our boundaries are," Paydar said.
The first structure, at IUPUI's main entrance at Michigan and West streets, should be installed by early fall and, at 52 feet, will be the tallest. When lit at night, Paydar hopes the edifice will be visible from planes flying into Indianapolis International Airport.
Local architectural firm Browning Day Mullins Dierdorf is designing the gateways and has completed two. University officials plan to begin accepting bids soon for the installation of the largest one, Paydar said.
Besides helping to improve IUPUI's brand, the gateways will help bring a unifying sense to the campus, said Bruce Bryant, president of locally based Promotus Advertising.
"Because right now, if you're not familiar with that area and you're not from Indianapolis, and you haven't witnessed the transformation, you might not understand the identity of the university," he said.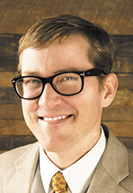 Grain
Browning Day is incorporating different elements of campus architecture into the designs of the gateways, Paydar said. The largest structure, for instance, will feature parts resembling the Campus Center, Eskenazi Hall and the university library and will be constructed from limestone, steel and glass.
"It will be rather large, so you can't miss it, and will proudly proclaim, 'This is IUPUI,'" Paydar said.
IUPUI's chancellor since 2015, Paydar has a long history at IUPUI and is proud to be spearheading its transformation. He joined the school in 1985 as a professor of mechanical engineering and ascended in 2004 to vice chancellor and dean of Indiana University–Purdue University Columbus.
In 2007, he was appointed chancellor of Indiana University East in Richmond before returning to Indianapolis in 2012 as executive vice chancellor of IUPUI.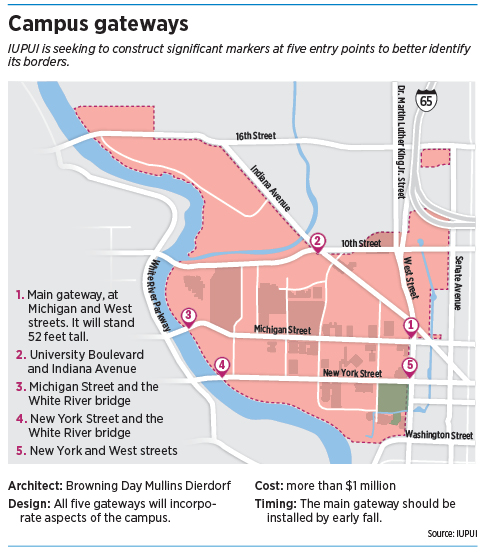 Since his return, the city has spent $10 million from the downtown tax increment financing district to improve New York and Michigan streets around IUPUI. New York was converted from one-way to two-way in late 2015, and work to do the same to Michigan should be finished by July, Paydar said. The Michigan project also will add bike paths, new sidewalks, a bus lane and new crosswalk signals.
The conversions are meant to slow traffic through the campus and improve access to the rest of downtown.
"For years, the city of Indianapolis has worked alongside IUPUI to increase connectivity, allowing the university to leverage the assets of downtown to benefit students and faculty," Jeff Bennett, deputy mayor of community development, said in an email.
"As the area surrounding IUPUI continues to benefit from targeted investment, it makes perfect sense for the growing residential campus of IUPUI to want to further connect to our thriving, increasingly residential downtown and adjacent neighborhoods."
 Grain
Tedd Grain, deputy director of the Indianapolis office of the community-development organization Local Initiatives Support Corp., is particularly interested in the two gateways set for the west side of the campus, where the White River meets the River West neighborhood.
River West is one of five neglected Indianapolis neighborhoods LISC is targeting for its Great Places 2020 redevelopment initiative.
"We think they will add a distinctive edge to the IUPUI campus and create more of a central place," he said, "and we're excited to work with the IUPUI leadership."
Paydar made it clear the gateways are about more than simple aesthetics.
"It's not a beautification project," he said. "The purpose is to make the city proud of our campus."•
Please enable JavaScript to view this content.