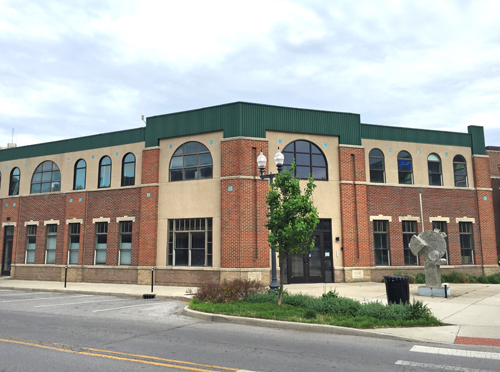 A local developer plans to tear down an office building on Massachusetts Avenue and construct a four-story condominium project featuring ground-level retail space.
Marion County assessor records show Stenz Construction Corp. in December paid $1.4 million to purchase the two-story building at 646 Massachusetts Ave., one block west of College Avenue.
The building had been owned by 646 Mass Ave. Partners Inc. Advertising executives Bruce Dean and Scott Johnson constructed the 5,826-square-foot building in 1996 to house an art gallery on the first floor and their graphic design and advertising firm above. Their current agency, AxiomPort, has moved to 1125 E. Brookside Ave. in the Circle City Industrial Complex, according to the firm's web site.
The four-story building Stenz is proposing to construct on the property would include 4,500 square feet of retail space on the first floor with up to nine condominiums above.
Members of the Stenz team presented their plans in early April to the Indianapolis Historic Preservation Commission, which took no vote on the project. Instead, commissioners granted a continuance after they voiced concerns about the design of the building.
The project was set to be heard at Wednesday's IHPC meeting but the matter was again continued, until June 6.
Commissioners in April mostly questioned the white stucco façade, with Jim Kienle saying "I can't get myself to ever go along with the white."
They also suggested the design of the building's backside should be improved to blend better with its neighbors on Walnut Street.
Stenz President Beau Ansty said Stenz is refining its design, but he declined to comment further on the project until his company receives IHPC approval.
IHPC in 1996 approved the existing two-story structure, which staff now considers "non-historic." Commissioner Susan Williams, who was not an IHPC member when the building was approved, cautioned against "repeating those same mistakes" when considering the design of a new building to take its place.
The existing building lately has experienced structural defects and last year was at the center of a lawsuit filed by the Kurt Vonnegut Museum and Library. The museum devoted to the late novelist signed a lease in September 2016 and began moving the following month into the building.
But the group moved out in February 2017 and returned to its space at 340 N. Senate Ave. Museum officials claimed the building suffered from water-intrusion issues so severe that at least one wall was in danger of collapsing.
After the building's former owner, 646 Mass Ave Partners, declined to rescind the museum's lease, the museum filed suit in Marion Superior Court, claiming fraud and breach of contract.
Owners discovered a water leak during the buildout for the Vonnegut museum and began cutting out drywall, exposing wood studs that had been rotted, Johnson told IBJ in April 2017.
The lawsuit was dismissed in August without explanation, according to Marion County court records.
Please enable JavaScript to view this content.