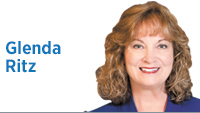 Over the past few months, public educators have been watching the statewide teacher protests that first began in West Virginia, then Oklahoma, Arizona and Kentucky. Watching to see if their state lawmakers are really going to do something about increasing funding and support for public education.
Unfortunately, teaching is not a well-paying job when compared to educated workers in the U.S. economy. The Brookings Institution's research into the data revealed that teachers in the U.S. are paid about 30 percent less than other comparably educated workers in our economy. Whereby educators have historically been paid less, the problem was exacerbated when many states and districts (including Indiana), made significant cuts to education during the Great Recession and funding has not returned to pre-recession for our schools.
However, data shows the problem of teacher salaries goes back farther than the Great Recession for Indiana. Looking at the percent change from 2007 to 2017 in constant teacher salary data (pay adjusted for the cost of living in each state as determined by the Consumer Price Index) from the National Center for Education Statistics, I found a graphic created by Edsurge that shocked me. Indiana was at the top of the list of states where constant teacher salaries have declined the most, with 15.72 percent drop from 2000 to 2017. Compare this figure nationally, where average teacher salaries are down nearly 5 percent after inflation is considered.
Our Indiana teachers really are taking home less pay today. More and more teachers are taking on second jobs (during the school year) to support their families. This economic survival trend is not good for students since it is well documented that teacher quality is the number one factor in our classrooms. Quality teachers cannot be attracted and retained with this economic situation.
But low teacher salaries are only part of the story. Support for our students is really the most important issue for educators in the field. The protests around the nation are about teachers—and parents—making their voices heard about the decline in public education spending used to provide students with the learning environments, resources and opportunities that they deserve.
Since changes pushed by Gov. Mitch Daniels passed into law, Indiana schools have relied much more upon the state to fund our schools (only 8 percent of funding for general operations comes from the federal government and meaningful local funding can happen only through a voting referendum). In addition, a lot of money has been diverted from public education through legislative action. The consequences are leading down a path towards an education crisis.
Indiana teachers have showed up at the Statehouse in support of public education in their "Red for Public Ed" shirts for the last few years. Educators will continue to have a loud voice for their students. They want to remain in the profession and they want to attract others to follow in their footsteps. They want the tools to do the best job they can for their students.
Educators, and parents of public education students, are becoming increasingly more active in speaking out to lawmakers. Education is becoming a stronger factor as voters consider candidates for the General Assembly. Indiana lawmakers should take notice and take steps to avert the impending education crisis.•
Click here for more Forefront columns.
__________
Ritz, a Democrat, is a former state superintendent of public instruction. Send comments to ibjedit@ibj.com.
Please enable JavaScript to view this content.