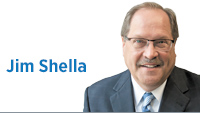 A friend of mine recently shared a fun rumor. He heard that I was under consideration to be the moderator of the recent GOP Senate primary debate conducted by the Indiana Debate Commission on April 30. I didn't take part, the rumor goes, because U.S. Rep. Todd Rokita objected.
The reality is, I beat Todd to the punch. I disqualified myself.
I was contacted by email in mid-February by a representative of the commission asking if I would be interested in moderating. I politely declined.
I'd like to explain why—and to explain why I believe the Indiana Debate Commission could be doing a much better job.
None of this is meant to be interpreted as criticism of Abdul Hakim-Shabazz, who served as moderator of the event and did an excellent job within the constraints that I'm about to spell out.
First, let me say that I believe debates are important and should be encouraged.
Having said that, the Indiana Debate Commission takes a curious approach.
From the time it was formed in 2007 until the time I retired in 2016 at the end of a 40-year career as a political reporter, the commission refused to consider me as a moderator for any of its events. It objected to the perceived promotional advantage that would be given to my former employer, WISH-TV. That includes the 2016 debates, which WISH volunteered to produce at no cost to the commission, giving the production an updated look that is much needed.
WISH's one stipulation was that I would moderate. The commission said no. Never mind that the investment in the production would have been greater than the benefit of any promotional advantage.
Presumably other TV reporters are similarly disqualified. And, presumably, they will also become eligible when they retire.
No spite here. I turned down the opportunity for the same reason that I quit doing Indiana Week in Review when I retired from WISH. You just can't do the same thorough job if you are not working in the trenches every day. I have no interest in being there just to be there.
(I also turned down an opportunity to take part in the WISH Senate debate, but I did do some consulting on it.)
I'm also annoyed by the commission's format, which is a constant. In the April 30 debate, the moderator spoke for more than 2-1/2 minutes before we heard from a candidate.
You don't need to spell out the rules to the viewers. This is not baseball and they're not keeping a scorebook. Let's hear from the candidates.
Most of the questions came from viewers instead of journalists, including the first one. It had a real Miss America quality to it. It was something like: What three actions would you pursue in your first months in office?
If that's the first question, you don't need opening statements. The candidates need to be asked tougher questions and then they need to be forced to answer them.
Finally, there's the Lincoln-Douglas segment. It allows candidates to talk about whatever they want, but, contrary to the goal, they didn't challenge each other.
Add up the time from opening statements, closing statements, and the Lincoln-Douglas-infomercial and almost a third of the debate saw candidates spewing campaign rhetoric unchallenged. A waste of time.
Abdul didn't have a chance.
Meantime, I have already declared myself unavailable for the commission's fall debate. Never mind starting a rumor that I am disqualified because of this column.•
Click here for more Forefront columns.
__________
Shella hosted WFYI's "Indiana Week in Review" for 25 years and covered Indiana politics for WISH-TV for more than three decades. Send comments to ibjedit@ibj.com.
Please enable JavaScript to view this content.