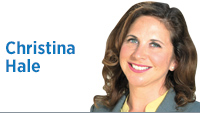 Today, Indiana Democrat women have far too few sheroes. The time is overripe to step up our game and organize.
Fortunately, some of our past and current Democratic leaders have bubbled up without benefit of a highly respected and effective program, like Republican have in The Lugar Series for women.
Accomplished women Democratic leaders who broke ceilings—including the late Congresswoman Julia Carson, Vi Simpson and Kathy Davis—did so without a structured support system.
The founders of Hoosier Women Forward, of which I am a board member, decided that enough was enough. Protesting and conversation only move the cause forward so far. Democratic women here in our home state are eager to get to work and better support each other's success.
Today, we have a shamefully low number of women serving in Indiana government, but the issues facing women are dire and urgent. From stockpiles of untested rape kits to exorbitantly high rates of maternal and infant mortality, issues that women tackle head on in their daily lives cut painfully.
Liane Groth Hulka grew tired of watching from the sidelines after the 2016 elections. She stepped up in several ways, most significantly by organizing and launching a new not-for-profit aimed at preparing and propelling Democratic women into civic, political and elected leadership roles to tackle the most important issues of the day.
Indiana is more obese and less healthy than ever before. We incarcerate more people than ever before. More people are addicted to drugs than ever before, more of our citizens of all genders, ages and abilities are victims of sexual and domesftic violence than ever before, and more counties are participating in needle exchanges than ever before.
And some problems are abiding. Although more women are earning paychecks, here we still make only 74 cents for every dollar earned by a man for the same job.
Mindful of these challenges and the present Hoosier political landscape, Liane fast-tracked the project, assembled a team and got to work. A powerful network of engaged Democratic women will eventually result in a significant increase in their number and influence in elected and appointed governmental positions at the local, state and federal levels, as well as in positions of influence in communities and the business. 
Women represent more than 50 percent of the voting public in Indiana, yet only make up 20 percent of the 150 seats in the Indiana Legislature. We have never had a woman representing Hoosiers in the U.S. Senate or the Office of Governor. Our representation on corporate boards is reportedly just as bad if not worse.
And in a state where Republican women have been cultivating leaders through the Lugar Series, we do have two women in Congress and four women serving in elected statewide offices—all Republicans. That is remarkable and to be respected, particularly by Democrats, the party that more loudly and proudly supports women's issues.
Earlier this year, Hoosier Women Forward was officially launched. Soon, the first call for applications will be issued. And this fall, Hoosier Women Forward will select the first group of accomplished, amazing Democratic women to participate in a nine-month leadership training program.
Women selected will have demonstrated interest in public policy, political advocacy and advancing Indiana forward with progressive policies and ideas and will reflect diversity in cultural, ethnic, economic, personal and professional life experiences.
Get ready, Indiana. New, prepared and energized sheroes are coming and that's a very, very good thing for us all.•
Click here for more Forefront columns.
__________
Hale is a former member of the Indiana House and ran for lieutenant governor in 2016 on the Democratic ticket. Send comments to ibjedit@ibj.com.
Please enable JavaScript to view this content.