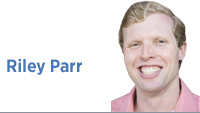 The 11th commandment might not be inscribed on stone tablets, but it did (sort of) originate with the closest thing to Republican Party gospel.
In his 1966 campaign for governor of California, Ronald Reagan proposed what Republicans now know as the 11th Commandment: "Thou shalt not speak ill of any fellow Republican." As Reagan told it, the phrase actually came from the California Republican Party chairman at the time, Gaylord Parkinson, in response to a barrage of personal attacks against Reagan in the party's primary that year. Perhaps in the back of Parkinson's mind was the verbal assault Barry Goldwater had endured just two years prior, courtesy of Nelson Rockefeller's supporters. Among those who have adopted the commandment include the former governor of our state and now vice president, Mike Pence, who swore off negative campaigning after losing a bruising race for the U.S. House in 1990.
2016, though, might have changed everything. Negative campaigning has been, and always will be, an effective tactic. Because it works. The exact definition is elusive and has an "I know it when I see it" characteristic, though many people would probably agree that there is a monumental difference between bringing to light things that are objective facts and most of what we observed during the 2016 GOP primary ("low energy" Jeb Bush and Marco Rubio's crack about Donald Trump's "small hands"). Unlike the Goldwater situation that concerned Chairman Parkinson, the negative personal attacks did not, for a whole host of reasons, result in a Democrat victory; that proves nothing, except that 2016 was a little bit weirder than we all already knew.
Somebody a lot smarter than me once said something to the effect of, "The best people for political office are the ones who don't run because they don't want to have their family and name dragged through the mud." The epitome of such a person is Mitch Daniels. Naturally, voters should want to know and are entitled to have, information about the people vying to represent them and serve as leaders in government. That's called having an informed populace, and is regardless of political stripe, a purpose worth pursuing. But that's not what negative campaigning is about. And certainly not in primary elections.
The difference in primary and general elections, for these purposes, is sort of like how the judicial system works: It's an adversarial system—a defendant against the state, or in a civil context, one party against another. But a primary is different. These are, presumably—though you might not know it from some of the ads running in several of the GOP's more marquee races this year—people who basically have the same outlook on the world and the same prescriptions on how to help fix the things. Unless someone is abjectly morally unqualified (and I doubt many people could even tell you what that means nowadays), over-the-top hit pieces might win a candidate the battle, but lose the war.
That might not even mean losing the general election, though there are probably plenty of examples of candidates getting beat up so much in the primary that it makes winning in the fall that much more difficult. It might just mean losing the respect of a sizeable portion of the party faithful in your area or state. It also means sacrificing potentially valuable allies down the line for a relatively menial short-term gain.
And, at least from a political operative's view, it's all about winning in November anyway. Because without a microphone, nobody much cares what you have to say.•
Click here for more Forefront columns.
__________
Parr is a student at the Indiana University Robert H. McKinney School of Law in Indianapolis and is treasurer of the Indiana Young Republicans. Send comments to [email protected]
Please enable JavaScript to view this content.