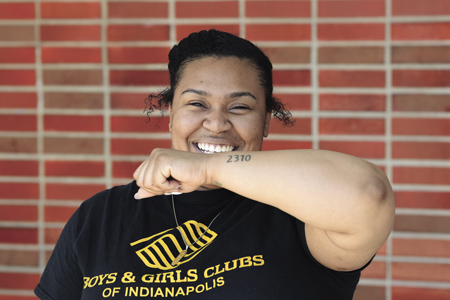 When Traneisha English tattooed the address of the Wheeler-Dowe Boys and Girls Club on her wrist, some of the 115 students she supervises as club director followed in their own age-appropriate way: by writing the same number on their own wrists in marker.

That number, 2310—where the club sits on East 30th Street in the Martindale-Brightwood neighborhood—has become a rallying cry for the kids and the club. And for English, it's a visual representation of the commitment she has to the children who show up each day to play, eat, do homework—a refuge in a neighborhood where increasing numbers of residents are experiencing hardship.
Martindale-Brightwood sits in the 46218 ZIP code, where more than 40 percent of people live in poverty, according to the latest census data. That's the highest percentage among Marion County's 36 ZIP codes.
The situation is growing worse in Martindale-Brightwood, but that's not an anomaly. Median household incomes have dropped in a full third of Indianapolis ZIP codes since 2000.
There are pockets of prosperity—places where incomes, home values and more are growing. And one of them is just a couple of miles from Martindale-Brightwood.
ZIP code 46220—an area that includes Meridian-Kessler, Forest Hills and Broad Ripple—has been one of the wealthiest areas in the city for years. And affluence there is only growing.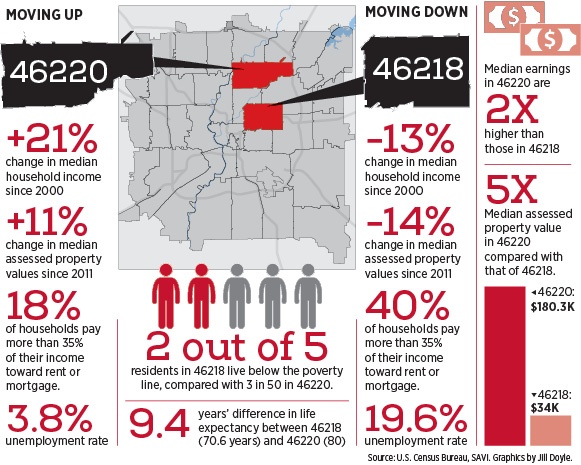 Consider the widening gap between the two neighborhoods since 2011:
◗ In 46218, median household income has dropped 16 percent, to $23,203. The percentage of families below the poverty level has increased more than 7 percentage points, to nearly 38 percent. Median assessed property values have dropped 14.4 percent, to $34,000.
◗ In 46220, median household income has grown 7 percent, to $66,279. The percentage of families living in poverty has dropped 3 percentage points, to a tiny 2.2 percent. And median assessed property values have increased 11.3 percent, to $180,300.
The differences between ZIP codes 46218 and 46220 represent the growing inequality across the city. From 2000 to 2016, the gap between the ZIP code with the highest gain in income and the one with the steepest drop spanned 152 percentage points.
The result is that people are living increasingly different lives—and experiencing increasingly different realities—in the same city.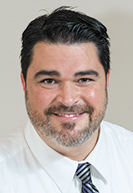 Adamson
"It really is two different cities existing in the same place," said City-County Council Vice President Zach Adamson, who has represented the Martindale-Brightwood neighborhood since 2016. "There is massive growth in our city for the affluent. The sad reality is, this recovery did not benefit everyone.
"We can celebrate the rise of property values in Meridian-Kessler, but it's not much of a celebration if you're part of the almost third of our city that is left behind," Adamson said.
The causes of increasing inequality in Indianapolis are wide-ranging: The loss of good-paying manufacturing jobs as factories in the city shut down due to automation and other forces. The stinging impacts of racism against the city's African-American population, both through past development that tore up neighborhoods and through continued stigmatization and bias in the criminal justice system.
The effects are serious—and not just financial. Residents in 46220, for example, have a life expectancy that's nearly 10 years longer than those in 46218.
The situation has gotten so bad that the business community now sees poverty and inequality as a threat to the region's future economic growth.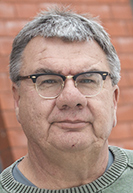 Klacik
Drew Klacik, a senior policy analyst at the Indiana University Public Policy Center, is working with the Indy Chamber on efforts to define the problem.
About 450,000 people in central Indiana are "disconnected in one way, shape or form from the American dream, or at least where the American dream is at risk," Klacik said.
That number incorporates 100,000 kids under the age of 18 who live in poverty, another 100,000 adults in central Indiana without a high school diploma, and about 250,000 adults who have less than an associate's degree and are working in industries at risk of automation, he said.
"The most left-leaning do-gooder and the most right-leaning capitalist both can see a reason to address income inequality and reduce opportunity disparity," Klacik said. "If you don't have enough thriving people, it's hard to have a thriving company and thriving economy."
The reality of poverty
English said her goal at the Boys and Girls Club is "expanding kids' worlds so they know it's not just 30th and Keystone. It's way more than that, and you can go anywhere you want to go."
She knows that just a few miles from the club are neighborhoods that are booming. With new grocery stores. With new luxury apartment towers. With new artisanal doughnut shops. With new craft breweries. With new money.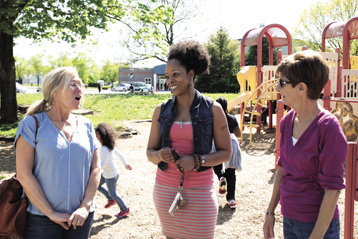 Brightwood Community Center Director LeRae Troutman, center, is flanked by volunteers Mindy Davis, left, and Diane Newton. Troutman said Martindale-Brightwood used to be "the heart of the east side."(IBJ photo/Eric Learned)
Families in Martindale-Brightwood are "not being included in that, or being thought about," English said. "If the things that were going on in this community were happening on 56th Street, on Kessler Boulevard, people would not be silent about it."
Voters and public officials would demand changes, she said. Instead, the area is "isolated and forgotten. There's no one in this community saying, 'What about us?'"
That might be changing.
IBJ is putting a new focus on covering inequality in Indianapolis—and how the economy is working, or not, for its residents. Stories in the coming months will shed light on obstacles to upward mobility—including challenges related to housing, hunger, education and transportation—while identifying possible solutions.
The wider business community is starting to take notice, too.
The Indy Chamber has been working with the Brookings Institution and the Public Policy Center to make a business case—along with a moral one—for reducing inequality in the community.
Joe Parilla, a fellow at the Brookings Institution's metropolitan policy program, said the disparities should matter to businesses because "exclusion is costly."
"There's a moral travesty that, in a country with so much abundance, you have people who are living at the margins, with very few resources, who don't feel they are being supported by public and private systems to help reach their potential," Parilla said.
"We have this idea in America that if you work hard and invest in yourself that you can get ahead," he said. "The statistics suggest that is just not the case, particularly if you are not white."
How did this happen?
The conditions in Indianapolis that made this level of inequality possible have been festering for decades.
"Central Indiana is a fascinating place," Klacik said. "If you look at our development, we look more like a Sun Belt city. We're the biggest city in the Midwest not on navigable water, so we never developed quite the industrial base that Chicago or Detroit did. We grew at the same time as Jacksonville or Nashville."
The result is an economy that resembles a barbell, Klacik said.
"We're half Midwestern Rust Belt and half Southwestern Sun Belt," Klacik said. "You have a big ball of innovation and management and another ball of service or worse, and not much in the middle. It's a big challenge."
In 1950, 56 percent of Indianapolis' jobs were middle-income or labor positions, with 29 percent of workers in lower-income service jobs and 14 percent of workers in higher-income or innovation jobs, according to data from the Indy Chamber.
Decades later, those middle-income jobs have shrunk.
Now, middle-income jobs account for 46 percent of the workforce here, with a growing number of lower-income service jobs (35 percent) and higher-income or innovation jobs (19 percent).
And that middle, which was always "soft," Klacik said, is only shrinking, in part because of automation and the flight of lower-skill manufacturing jobs overseas. In 1970, 29 percent ofMarion County jobs were in manufacturing. In 2016, the number had fallen to 8.5 percent, according to the Brookings Institution.
"The more you make in a repetitive job, the more incentive there is for an organization to invent a robot to replace you," Klacik said.
That's a problem because middle-income jobs have traditionally provided the ladders to the middle class.
Without those opportunities, "the ability to make life better for your children gets narrower and, in fact, less secure," he said.
From booming to poor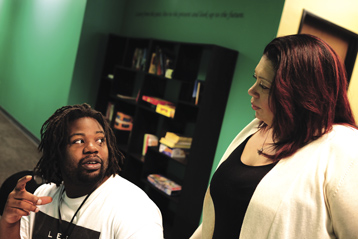 PACE Executive Director Rhiannon Edwards helps program participant DeMarcus Bush prepare his resume. (IBJ photo/Eric Learned)
The lingering effects of structural racism—once legalized and now less tangible but still present—also hold Indianapolis back.
Martindale-Brightwood wasn't always poor. The previously distinct towns, incorporated in the 1870s as working-class suburbs of Indianapolis, once flourished. Railroads supported the economy, and the area was filled with manufacturers like Indianapolis Gas Works, Wm. Eggles Field Lumberyard, Hoosier Sweat Collier Factory, the National Motor Vehicle Co. and the Monon Railroad yards, according to a narrative history of the area published by The Polis Center at IUPUI.
"Martindale-Brightwood used to be a booming community," said LeRae Troutman, director of the Brightwood Community Center. "It was the heart of the east side. Station Street was filled with businesses and banks and lawyers and different things."
But the railroads relocated in the decades after World War II, which prompted demographic changes.
"With the loss of the railroad industry and the expansion of Indianapolis suburbs, the neighborhood went through a period of transition," according to the narrative history. "White residents began to relocate to the newly built suburbs."
About One City, Worlds Apart
This is the first story in an occasional series examining the growing gap between the affluent and poor in Indianapolis and ways to address the problem. Read the other stories
here
.
Then came construction of interstates 65 and 70 in the 1960s and 1970s, which cut through portions of the neighborhood and displaced residents.
"Martindale-Brightwood was now divided by an east-west interstate and had lost a portion of its population," the narrative history notes. "Residents moved, local businesses followed, and the old economic center of Brightwood, Station Street, began to be vacated. By the mid-1970s, the street had lost a doctor's office, accounting and bookkeeping services, a cafe, insurance company, Salvation Army store, pool hall, a pet store, and Cohen Bros. Department Store, which had first opened its doors in 1897."
Troutman said she was recently going through old photos of the area and found it "really sad."
"The houses were beautiful, the yards were beautiful," she said. "This was the place to be. When I drive through the east side, I just shake my head. Why aren't we putting money into this community? I love my city. I think it should be beautiful. But I think it should be beautiful from top to bottom."
Troutman said she believes racism over generations "plays a big role in what has trickled down."
Klacik said historical bias "means that race and income are still very intertwined."
"That's due in part to segregatory behavior and racist behavior in the past," Klacik said. "How do you get ahead if you're born in a household and neighborhood that lacks social capital? Because of our history, African-Americans tend to live in those kinds of neighborhoods."
Crime and desperation
Community leaders say generations of disinvestment have resulted in poverty, crime, over-policing and stigmatization—all of which has contributedto the isolation.
"As our population becomes more desperate, you're starting to see the indicators of desperate living—and that is a rise in violent crime, mental health triaging through self-medication and all those symptoms that come along with theconditions of poverty," said Adamson, the councilor.
"I'm not saying that poor people are more prone to addiction or committing crimes," he said. "It's only to say that I think the condition of being poor puts burdens on a person."
Kendall, an Indianapolis Public Schools eighth-grader who comes to the Wheeler-Dowe Boys and Girls Club nearly every afternoon, called it a safe place in a dangerous area.
That's a big deal in an area where many children experience trauma. English, who has been leading the club since 2016, said she found it "mind-boggling" that 8-year-olds at the club could differentiate between the sound of fireworks and the sound of gunshots.
The Martindale-Brightwood neighborhood had 59.9 violent crimes per 1,000 people in 2016, according to data analyzed by IndyVitals, a project of the IUPUI Polis Center. That level of violent crime ranks Martindale-Brightwood 77th among Indianapolis' 99 neighborhoods in terms of safety.
Rhiannon Edwards, executive director of PACE, which helps people leaving prison re-enter society, said fallout from being incarcerated escalates poverty.
"When this individual is in prison and the family is out there on their own, they're struggling without the income," Edwards said. "If they're out on probation, they have to pay fees. It's going to be more difficult for them to get a job. They're excluded, if they have a drug offense, from food stamps. There's a lot of [systemic] barriers that keep their families in poverty."
When residents in poverty see the disparities in income and investment in more affluent neighborhoods, it adds to their despair, she said.
"A lot of how you function and how you feel and what you give back has to do with your container and your environment," Edwards said. "How am I going to build myself up in this environment to do better? How frustrated am I going to be when I drive two streets over and see how great it is over there?
"It's great that as a city we are building up certain areas. I'm all for that. We also need to do some building upin these other neighborhoods so it's not so disproportionate."
Need is everywhere
Even in areas of relative prosperity, such as the 46260 ZIP code on Indianapolis north side, there is considerable need.
In that ZIP code—which stretches north of Holliday Park to 96th Street, and from Township Line Road to Meridian Street—19 percent of individuals live below the poverty line, a rate that's more than doubled since 2000.
Madison VanVeelen, coordinator of Northside Mission Ministries at Second Presbyterian Church in 46260—where the food pantry serves 500 families per month—said it was surprising to the congregation that there was "quite a bit of need going unseen and unmet."
"Second Presbyterian is a large and historically affluent congregation, and on the surface, Washington Township may look to some like a pretty well-off place," VanVeelen said.
But the seriousness of the situation hit home to her when she realized the desperate steps some people took to get to the food pantry, which isn't on a bus line.
"We used to have someone come down Meridian Street on a motorized wheelchair, which is sad, and dangerous," VanVeelen said. "They appreciate this resource is offered and they need what is being offered, but it's so hard to get here. Walking is even harder when you have bags of food to take back with you. It's just limiting, and coming to the food pantry is just one facet of why that's a problem."
Those facing such challenges don't just have a tougher day-to-day existence. They also could end up with significantly shorter life spans.
There is a 12-year difference in life expectancy spanning the 36 ZIP codes in Indianapolis, according to the latest census data. The ZIP code 46225 has the lowest life expectancy at birth, 69.4 years, which is similar to the life expectancy of Iraq.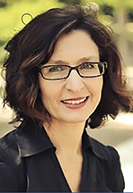 Weathers
Tess Weathers, a research associate at the Richard M. Fairbanks School of Public Health at IUPUI, said the results of her research into life expectancy in the Indianapolis metro area are "stunning." In a 2015 study, Weathers found life expectancy along the 10.4-mile Monon Trail, from 96th Street down to 10th Street, drops 14 years.
"What it really says to me is, we really aren't living the same lives," Weathers said. "It's sort of like parallelsocieties coexisting."
Life expectancy measures an "average of all the years of life lost too early," she said. So it's not just that years are chopped off at the end. A higher infant mortality rate or higher numbers of teenage deaths can all affect the life expectancy rate.
Though Weathers said life expectancy is commonly thought of as a health measure, it's "kind of like taking the temperature" of a community.
"It's everything from the quality of the schooling to food access to safety to the strength of community connections," Weathers said.
And she said the starkness of the data "goes against a basic sense of fairness."
"If you're born into certain communities of this city right now, with a sad level of accuracy, I think we could probably predict your life is going to be a good bit shorter than if you're born somewhere else," Weathers said.
Staying humble as helpers
Community leaders said they need more resources and more attention on key challenges—and generally say they are pleased to see the Indy Chamber and others taking an interest.
But one of the tensions caused by the business community getting involved is born of the fact that social service agencies and activists have been sounding the alarm on these problems for decades—to little avail.
Parilla said that, as the business community tries to invest to solve challenges, it must be careful not to "big-foot on organizations that have been doing this stuff and have kind of been waiting for an organization like the chamber" to show up to help.
Inequality is "not the fault of any one organization or employer, but … kind of collectively our fault," she said. "The scale of the problem is going to require that we all try to do this together."
Edwards, the PACE executive director, said she encourages people to actually visit and listen to those working in the city's poor neighborhoods.
She said it's up to people with more influence to drive changes.
"If people from my world were to talk about this, no one listens to us," she said. "It's really a government issue, but corporations drive what happens in government. We all know that. Money talks. People from the corporate world have to be educated on what's happening and why it's in their best interest to want it to happen.
"I don't know how we think we're going to attract new people to come to our city because we have a nice downtown and a nice Meridian-Kessler," she said. "What about everything in between?"•
 
// (function() { // // !function(e,t,n,s){var i="InfogramEmbeds",o=e.getElementsByTagName(t)[0],d=/^http:/.test(e.location)?"http:":"https:";if(/^/{2}/.test(s)&&(s=d+s),window[i]&&window[i].initialized)window[i].process&&window[i].process();else if(!e.getElementById(n)){var a=e.createElement(t);a.async=1,a.id=n,a.src=s,o.parentNode.insertBefore(a,o)}}(document,"script","infogram-async","https://e.infogram.com/js/dist/embed-loader-min.js"); // // })();
Please enable JavaScript to view this content.