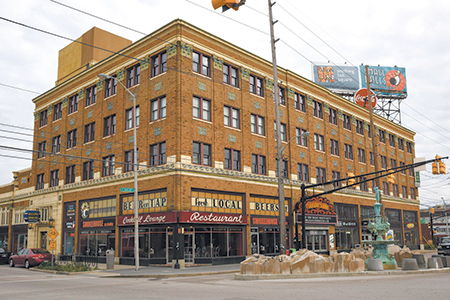 Two new tenants with Indiana roots—an Italian restaurant from a local entrepreneur and an ice cream shop from Fort Wayne—are slated to take ground-level retail space in the prominent Fountain Square Theatre Building.
The yet-to-be-named Italian eatery and bar will be operated by Ambrosia owner Gino Pizzi along with his daughter Francesca Pizzi and step-son Lawrence Green.
Fort Wayne-based The Yummi Bunni is the other tenant, opening its first location outside of the northeastern Indiana city. The shop serves scoop ice cream and is known for its ice cream sandwiches made with doughnuts.
Pizzi, who launched Ambrosia in Broad Ripple in 1980, hopes to have the new restaurant open within the next three to four months, he told IBJ.
"Take Ambrosia as a template and make it much more casual," he said of their Fountain Square plans. "Smaller [plate] sizes, something that would appeal to the younger generation and a lot more relaxed."
The restaurant is set to take 3,400 square feet formerly occupied by Smokehouse on Shelby, which closed April 23 on the southeast corner of Shelby and Prospect streets, and the Imbibe bar. Imbibe is moving to the Sidekicks Pizza space on the far-south side of the building and will maintain a pizza menu, said Matt Cremer, a partner of the building's owner, Chicago-based North Park Ventures LLC.
With Imbibe's move, the bar will give patrons direct access to the building's second-floor game room and pool hall. Atomic Cafe, located in the building's basement, will absorb the Smokehouse menu, Cremer said.
The Yummi Bunni, meanwhile, is taking 1,350 square feet where Artistic Skin Design & Body Piercing was located along Prospect Street. Makenna Click, the owner of the ice cream shop, said the Fountain Square store will open this summer.
Cremer said the two new arrivals will fill a couple of voids in the Fountain Square neighborhood, in terms of bringing a dessert offering and a nice restaurant to the area.
"There aren't a ton of sit-downs," he said.
Adding Pizzi's Italian restaurant and The Yummi Bunni to the 90-year-old Fountain Square Theatre Building is part of North Park's larger plans to make the building's retail spaces more active.
North Park bought the building in late October from Linton Calvert, who had owned the neighborhood anchor for nearly 25 years. Calvert's work to stabilize, restore and repurpose the building has been credited with helping anchor the now-trendy neighborhood's revival.
For North Park, the acquisition represents its first foray into Indianapolis. The private-equity firm partnered with locally based Hageman Group to make the purchase.
Please enable JavaScript to view this content.