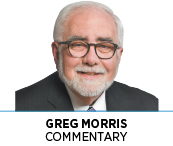 It's been almost two years since 26-year-old Christopher Shannon Joseph, "CJ," was shot and killed on an August Sunday night in Indianapolis. Like so many other homicides in our city, the crime is unsolved. Somebody knows something, but they're not talking.
CJ's story is all too familiar—and tragic. A young black man loses his life to senseless gun violence and another promising life ends way too soon.
The location of the shooting was Watkins Park, near 25th and Dr. Martin Luther King Jr. streets, at about 10:30 p.m. on Aug. 7, 2016. As was routine at that location on Sunday nights, hundreds of young people had gathered and were listening to music. Typically, the crowds are peaceful, but on this night, shots rang out. A teenage girl and a 24-year-old man were also shot, but they survived. CJ was not so lucky. He was in the wrong place at the wrong time.
I knew CJ many years before his untimely death because his father and I worked together in the radio business. My impression of CJ was that he was just like any other kid—full of energy, promise and hope for the future.
CJ was born in Chesterfield, Missouri, to Kim-Sykes Joseph and Craig M. Joseph. He was raised here and was introduced at a young age to soccer at First Baptist Church Athletics on Indianapolis' north side. CJ really loved soccer.
All of CJ's family supported his soccer, to the point that his great-grandmother, grandmother and other family members would drive all the way from Gary to Indianapolis weekly to watch his matches. CJ's soccer became the Joseph family business.
CJ's dad recognized early on that soccer could be used as a parenting tool and a way to convey many life lessons. CJ played soccer until his death—from First Baptist, where he was a member, to Pike Youth Soccer. He continued playing at North Central High School and Central State University, the historically black college in central Ohio where he got his bachelor's degree in 2012.
CJ's dad, Craig, is honoring the life of his only son by creating a foundation, the HoHoff Foundation, with plans to raise funds for programming in Indianapolis and New York City for families affected by gun violence.
Craig moved to New York, but he's back in Indianapolis this week for CJ's Love Soccer Festival the weekend of May 17-19. There's a private event May 17, a reception at the Indianapolis Firefighter's Museum May 18, and a soccer tournament at Tabernacle Presbyterian Church soccer fields May 19.
Whichever side of the gun debate you're on, I think we can all agree that curbing gun violence by keeping guns out of the hands of criminals and those who shouldn't have them is a worthy goal. No one wants to see another life lost. So, let's all work toward a common goal.
To learn more about the HoHoff Foundation and how you can support it, feel free to contact Craig Joseph directly at 347-867-2905 or email him at Inquest2000@gmail.com.
Now that you know a little about CJ, please remember he's not just a statistic. He was a caring and loving person whose family continues to mourn his death. And his killer still needs to be brought to justice. Somebody knows something. Anyone with information is encouraged to call Crime Stoppers of Central Indiana at 317-262-TIPS (8477).•
__________
Morris is publisher of IBJ. His column appears every other week. To comment on this column, send email to gmorris@ibj.com.
Please enable JavaScript to view this content.