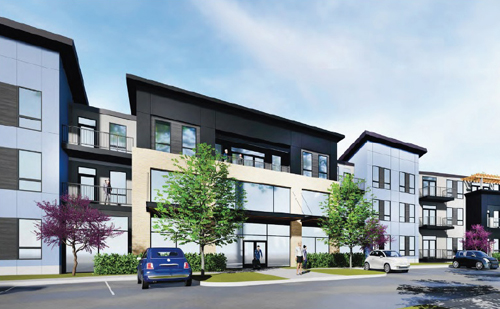 A developer has proposed constructing a 218-unit apartment complex on property that the town of Zionsville and retailer Walmart fought over for a decade.
Archview Properties LLC, an affiliate of Indianapolis-based Cityscape Residential, has petitioned the Zionsville Plan Commission to rezone 14.5 acres of land at 779 Lennox Court from the B-2 zoning district to the residential multifamily zoning district. The rezoning would allow Archview to construct three apartment buildings featuring a mix of one-, two- and three-bedroom units.
The proposal will be introduced at Monday's Zionsville Plan Commission meeting.
The site, along Michigan Road between 106th Street and Bennett Parkway, was the subject of a long legal battle between Zionsville and Walmart Inc., which wanted to construct a 300,000-square-foot shopping center anchored by a Walmart Supercenter on the property.
The Bentonville, Arkansas-based retailer first filed development plans for the 22-acre site in 2006, but town officials repeatedly denied the retailer's proposals. The company filed multiple lawsuits against the town to fight the decisions from the Zionsville Plan Commission, and the case was finally resolved in 2016 when a judge ruled in favor of the retailer.
Zionsville chose not to appeal the decision, and in July 2016, the town's plan commission approved Walmart's 2006 proposal.
At the time, Walmart declined to say whether it still planned to build the store. About a year later, in July 2017, the retailer announced it would not follow through with its plans and put the property on the market with an asking price of $7.5 million.
The property is still owned by Walmart, records show. Representatives for Walmart could not be reached for comment.
Now, Archview Properties has new plans for the portion of the land located in Boone County. Roughly one-third of the 22 acres fall in Hamilton County.
Three buildings, each with three stories, would be built, containing 100 one-bedroom, 100 two-bedroom and 18 three-bedroom apartments, documents show. Onsite amenities would include a fitness room, a club room, a game area, a business center and a swimming pool.
Of the 400 parking spaces proposed, 110 would be private garages.
Details about the project's cost and how much apartments would rent for at the complex were not disclosed.
Cityscape Residential's projects in Indianapolis' northern suburbs include Prairie Lakes in Noblesville, Old Town Carmel and Carmel Center. In Indianapolis, Cityscape's communities include Canal Square and Mill No. 9.
Please enable JavaScript to view this content.