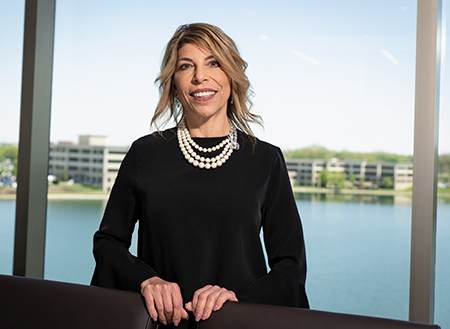 A majority of married women defer to their spouses for long-term decisions about financial planning and investing—even as most are involved in the more mundane tasks of paying bills and managing the weekly budget, a new study shows.
And that can be a big problem, given that roughly half of marriages end in divorce and most women outlive their husbands.
Mary Townsend, now first vice president of wealth management with UBS Financial Services, knows the scenario all too well.
"I was one of those women," said Townsend, who works at UBS' Indianapolis office at Keystone at the Crossing.
Before she entered the financial world, she was married with three children, working in the restaurant industry. Townsend ran the household and paid the monthly bills, but she left the financial-planning decisions to her husband.
Then a divorce left Townsend to deal with big-picture financial issues on her own. "Life threw me a curveball," she said.
The experience inspired her to become a financial adviser so she could help other women avoid being caught off-guard financially.
"I try to bring those experiences along in my everyday practice," Townsend said. "You've got to get involved in the overall picture. You have to be prepared."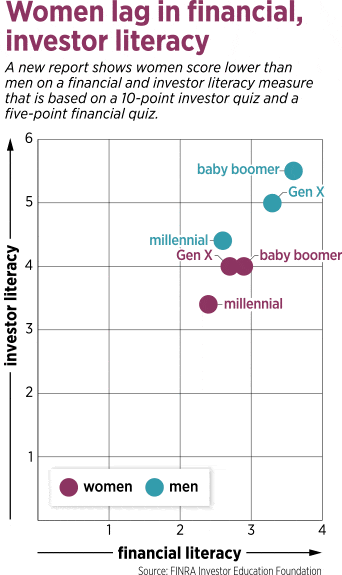 But two recently released studies reveal that women—despite advancements in other areas of business and pay—are still too often unprepared.
A survey released in March by FINRA Investor Education Foundation found that women score lower than men on financial- and investment-literacy tests, and that women are also less confident in their level of knowledge. The foundation's survey—conducted in 2009, 2012 and 2015—included a total of 62,030 millennials, Generation Xers and baby boomers over that six-year period.
And in its "Own Your Worth" survey released in April, UBS found that, while 56 percent of married women leave major financial decisions to their spouses, only 18 percent expressed serious concern about managing their finances if something happened to their marriage.
UBS also surveyed women who had been widowed or divorced within the past five years. Among that group, 59 percent said they wish they had been more involved in long-term financial decisions during their marriage. And among the widowed or divorced women who have since remarried, 79 percent said they are taking a more active role now in household financial planning.
The UBS survey included 599 recently widowed or divorced women, 1,474 married heterosexual men and women, 107 same-sex married women and 112 same-sex married men.
The report suggested several reasons for the gender gap:
◗ Finances are still dictated by time-worn gender roles. "In many cases, married couples are simply imitating the gender roles they witnessed growing up," the UBS report says. "Most saw their mothers handle the day-to-day finances while their fathers handled the investing—and many have adopted the same division of labor."
◗ Men are more often still the household breadwinners. "Most male breadwinners say it feels natural for them … to make major financial decisions for the family," the report says. "Yet, when roles are reversed and women are the household's main breadwinner, 43 percent still leave the major financial decisions to their husbands."
◗ Women are busier with the daily duties of running a household. "It's not surprising then that 85 percent of married women who are less involved in long-term finances prefer their husbands to take care of it," the report says.
◗ Women lack confidence in the financial realm. "Women consistently underestimate their own abilities while overestimating what is required to be financially involved," the report says.
"We need to empower ourselves," Townsend said. "We need to have a voice."
Not a guy problem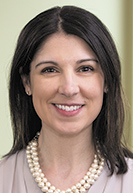 Thompson
Few men lack such confidence. Participants in the FINRA Foundation study took a five-question financial-literacy quiz and a 10-question investor-literacy quiz. In every generation, men outscored women on both tests.
Leslie Thompson, co-founder of Indianapolis-based Spectrum Management Group, said women who defer to their spouses on key financial decisions are at a disadvantage if they're contemplating a divorce.
"Oftentimes, they have no idea financially where they stand," Thompson said. "They don't understand what it takes to make their life work from a financial perspective."
At a minimum, she said, both spouses should know their monthly expenses, where their assets are held, what debts they carry, where estate documents and safe-deposit boxes are located, who their accountant is, and the basics of how different investments work.
Women should be a part of meetings with financial advisers—and not be shy about asking questions. "Women have the right to be heard, and need to have a seat at the table to get their questions answered," Thompson said.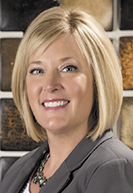 Erhart-Graves
That's especially true given that nearly 2 million U.S. women are divorced or widowed annually, according to federal data. The median age of women when they become widows is just 59 and they spend an average of 10 years alone, the UBS report says.
In fact, UBS says eight in 10 women will end up alone and therefore responsible for their own finances.
Juli Erhart-Graves, a certified financial planner and president of Indianapolis-based Worley Erhart-Graves Financial Advisors, said it's common for one spouse to take the lead in financial planning.
"We all have our natural abilities," she said. "There's always one person who's more financially savvy than the other."
In her home, Erhart-Graves happens to be that person. But although she's the one who makes investment decisions, she also makes sure to share that information with her husband.
"If I drop dead tomorrow, he needs to know where things are," Erhart-Graves said.
Get started
If you're not confident about financial matters, she said, the best way to start is by looking at your household's financial documents. Read bank statements and investment statements and look at your family's income tax return. Know your household's monthly income and spending, as well as its assets and insurance coverage.
"Just start familiarizing yourself with your personal situation. You don't have to know everything all at once," Erhart-Graves advised.
UBS recommends that women start by considering the priorities that will frame their financial needs. Among the questions to consider: What do you want to accomplish in your life? Who are the people who matter most to you? What do you want your legacy to be? How do you plan to achieve your life's vision?
Then, think about wealth in three categories: liquidity to provide cash flow for short-term expenses including housing and travel, longevity for longer-term expenses such as retirement and long-term care, and legacy for philanthropy and passing assets to future generations.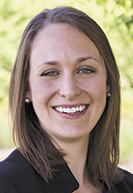 White
Tiffany White, a certified financial planner with Indianapolis-based Halter Ferguson Financial Inc., said she likes to talk with both spouses about their values and priorities around money—as well as their financial goals.
"To be better planners and better advocates for our clients, we need to understand their emotional ties to money," White said.
She and other advisers say women often have an advantage over men when it comes to planning for those longer-term goals—in part because they are often more connected with their emotions, which can help them see the big picture.
Erin Shaw, the Indianapolis market team lead for JPMorgan Private Bank, said women are often better at taking the wider view.
"Men tend to be more granular in the nitty-gritty of the investments, whereas women tend to look at the big picture."
In particular, Shaw said, when she works with clients on goal-based planning, women tend to focus on long-term goals. They are more concerned than men, for instance, about making sure they don't outlive their assets.
That long-term focus, she said, is helpful even if an investor doesn't have as much knowledge about the details of each investment. Keeping the goal in mind can help investors stay calm in the face of short-term market fluctuations.
Women "tend to be great long-term investors because they can ride those ups and downs," Shaw said.•
Please enable JavaScript to view this content.