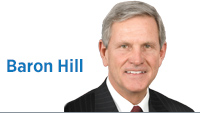 President Trump coined the phrase "fake news." Should we believe him? Does the mainstream media make up false stories? On occasion, journalists make errors. Who doesn't? But fundamentally, the media is honest and professional in its reporting. When the occasional error is made, responsible journalists correct it.
The point to understand in news reporting is not that journalists lie; the point to understand is journalistic bias. The fact is, we all have our biases. We all have different life experiences that affect our outlook. So when journalists report the news—whether they be at newspapers, on television or on radio—It's important to understand where they are coming from.
CBS, NBC, ABC, The Washington Post and The New York Times are usually referred to as mainstream media with a liberal bias. Fox, Newsmax, Breitbart, The Washington Times and New York Post are considered mainstream media with a conservative bias. The reporting is usually accurate but their biases are clear.
Let's take a look at what I mean. On May 14, the headline in The Washington Times was, "Trump celebrates new U.S. embassy in Jerusalem," whereas the headline in The Washington Post was, "Dozens killed in Gaza protests as U.S. opens embassy in Jerusalem." Both are accurate headlines, but display clearly different biases.
Then, of course, you have opinions and editorials. This morning on The New York Times opinion page, the headline was: "Why Comey's October surprise was pointless and wrong." It was an opinion column criticizing James Comey, then the FBI director, for ruining Hillary Clinton's presidential race. In The New York Post, the opinion headline was, "The mayor's perverse mental health priorities," criticizing Democratic New York Mayor Bill de Blasio's mental health policies.
Now add the cable news channels, and the bias really heats up. What are we to believe? When it comes to cable news channels, I believe most people tune in to the channel that adheres to their world view. It makes us feel better when a television channel confirms what we believe is the truth.
So what is the truth? In a free and open democracy, where the press is protected by the First Amendment, journalists usually tell the truth, even with a bit of bias. It's up to us to sort out the bias.
In my view, the truth emerges a bit more crisply and clearly when the so-called liberal media is reporting. I claim this in the context of being a moderate Blue Dog Democrat. But it does seem to me, after giving conservative media an objective chance to report facts, that it ends up spending more time pushing the bias and defending conservative ideology. Though I have to give Fox News reporters Shepard Smith and Neil Cavuto credit: They took their gloves off and chastised President Trump strongly for his lying.
Fake news? No, that's just the president criticizing the liberal media and inviting us to tune in to the conservative media. The president's constant attack on the media is disturbing. Democracy is sustained by a free and open press. For the president to disparage this institution is to attack the very core of who we are.
I hardly ever agree with Vice President Mike Pence. But several years ago, when we were both serving Indiana in Congress, Pence championed a legislative effort for a federal media-shield law, which would protect journalists from being forced to reveal confidential sources. If this Mike Pence would emerge in the Trump administration, America would stay great again.•
Click here for more Forefront columns.
__________
Hill is a Democrat and former congressman from the 9th District in Southern Indiana.Send comments to ibjedit@ibj.com.
Please enable JavaScript to view this content.