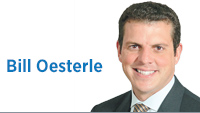 Full disclosure: I supported Corrie Meyer in her Republican primary run against Sen. Mike Delph. He won with a large margin. I congratulate him, and I will undoubtedly be accused of sour grapes. I don't care.
About three weeks ago, Delph—through an outside group—sent a negative direct-mail piece to constituents in the Senate's 29th district, which is split among Boone, Hamilton and Marion counties. It is a suburban district of Indianapolis.
I have seen a lot of campaign mail in my career, and negative pieces are not unusual. Generally, the stuff is pretty nasty, painting opponents with all manner of evil intentions. A friend of mine won momentary notoriety years ago for sending a piece that accused his opponent of supporting bestiality. He lost that race and spent years trying to atone for the piece. The world of negative mail is not for the faint of heart.
Even with callous eyes, something about Delph's piece didn't sit right. It was puzzling, even weird. The odd thing was that it barely mentioned his opponent. Instead, it focused on three outside people. While outside targets are common, they are almost always national figures like Nancy Pelosi or Donald Trump. Delph chose a different, very local path.
His first target was J.D. Ford, a Democrat who challenged him, and lost, in 2014 and is running again this year. Why choose J.D. when you have Hillary Clinton or Chuck Schumer? Very puzzling.
His next two targets were even more bizarre. With equal ink and grainy photos, he called out Mickey Maurer and Megan Robertson. Mickey needs no introduction in this publication or virtually any other in Indiana. [Editor's note: Maurer is co-owner of IBJ Media.] He is simply one of the greatest entrepreneurs this state has ever produced. Oh, and he is a giant philanthropist and volunteered two years of his life to run the Indiana Economic Development Corp. for Mitch Daniels. Odd choice for direct-mail villain.
Delph's last target was my friend Megan. She is a longtime GOP campaign bulwark, working campaigns for Dan Coats, Luke Messer, the Indiana Republican Party and the Marion County Republican Party. She served Mayor Greg Ballard with notable distinction, both on his campaign and in his administration. She also ran Freedom Indiana when it defeated the proposed Indiana constitutional amendment to outlaw gay marriage and civil unions. Nancy Pelosi she is not.
The key to unraveling this mail mystery was the two-word descriptor under Mickey's picture: "Liberal Financier." Not entrepreneur, not businessman, not even publisher, but rather financier. In nearly 30 years of following Mickey, I have never seen him called a financier, not once. Here, it was anti-Semitic code. Mickey is Jewish.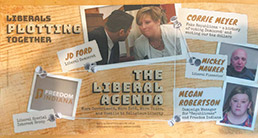 Mail piece sent on behalf of Mike Delph. (photo provided by Bill Oesterle)
With this one clue, the rest of the piece begins to unravel. J.D. Ford is gay. Megan is a lesbian. The only organization mentioned in the piece is Freedom Indiana, the bipartisan organization "that supports gays."
This was classic anti-Semitic, gay-baiting. I have never seen anything like it in Indiana. Delph can't hide behind Bill Schneider or the so-called Indiana Conservative Election PAC, whose name is on the mailer. If he does not condemn this horrible piece, loudly, he owns it.•
 
Click here for more Forefront columns.
__________
Oesterle is the CEO at Tmap LLC. He managed Republican Mitch Daniels first run for governor. Send comments to ibjedit@ibj.com.
Please enable JavaScript to view this content.