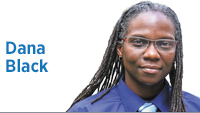 Do me a favor: Clasp the forefingers and thumbs on both hands together, hold your arms up and out, elbows slightly bent. Now breathe in deeply … and finally exhale. Primary season is OVER!
I have to be honest—listening to three like-minded conservatives insulting one another over who is most like Donald Trump instead of who has the best ideas to serve Indiana was way more than I could take. Am I supposed to believe these three campaign bullies are the best Republicans Indiana has to offer?
Democrats, you are not off the hook. That Marion County sheriff's race left me feeling like I needed a shower. I still shudder at some of the accusations that came from both camps.
All of that is behind us now. We can focus on November and be proud of the fact we have seven Indiana women surviving their primaries and running for Congress. Allow me to pop my collar a bit and brag that Democrats have five women—count 'em up, five women—running for congress. And one other little tidbit to take the pride level to a new high: Two of those women are women of color.
As I type this, I'm sitting up straight and my shoulders are back because this is truly a proud moment. Historic doesn't even begin to explain this "Year of the Woman" story. Women are actively seeking to be more than 20 percent of our roster of elected officials and they are winning. Conversations will begin to change with more women at the table.
I have extra interest in two races, the 5th and the 9th congressional districts.
In the 9th District, we have the incumbent Tennessee carpetbagger Trey Hollingsworth against Liz Watson, a Hoosier native and woman who knows how to navigate Washington, D.C. This race is intriguing to me because these two candidates, in my opinion, are a microcosm of where we are as Americans.
Are we a nation who will reward only the super wealthy with our vote, even if it's against our interests? Or are we giving our vote to a candidate who actually has done work to improve the lives of working-class folk? Hollingsworth voted for a tax cut that gave him and his family more than $4 million in tax relief, while Watson has worked to make $15 the minimum wage in our country. This is, in my opinion, a values race. What do you value and who will get your vote?
The 5th District has incumbent Republican Susan Brooks and Democrat Dee Thornton squaring off against each other. An Indiana congressional race with two women discussing policy, explaining how they will work across the aisle, and debating how they wish to improve America with their vision—and no "mansplaining" to get in the way.
Look, I'm not foolish. I'm certain someone will bring up the racial difference, but I think that is just another aspect of this race that is so intriguing. This is what opportunity and inclusion really look like. In the words of RuPaul: "May the best woman win!"
Little Dana is tucked away in her Holly Hobbie bedsheets dreaming about being anything she wants to be because this is America. Having seven women running for Congress from Indiana is just another confirmation that dreams can come true.
There is a lot of work to be done between now and November. But Indiana women have shown they are not scared and they are prepared to put in that work.•
 
Click here for more Forefront columns.
__________
Black is deputy chairwoman for engagement for the Indiana Democratic Party and a former candidate for the Indiana House. Send comments to ibjedit@ibj.com.
Please enable JavaScript to view this content.