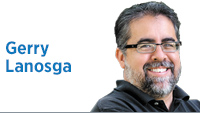 With the dust settled from the primary election, the Indiana Debate Commission (of which I am president) is looking ahead to organizing several debates in the general election for U.S. Senate. As we do after every debate, we will look back on the Republican primary debate we just ran and think about how we can improve next time.
Some news coverage of the debate raised substantive and constructive feedback. Like just about everyone else, for instance, the commission wishes the candidates had more directly addressed the issues and questions raised. Disciplined politicians can almost always find ways to stick to their talking points, which is what happened in this primary. But we are talking about how tweaks to the debate format might shake things up a bit.
On the other hand, some ongoing criticism of the debate commission, including here in Forefront, reflected a fundamental lack of understanding about how we work and why we exist. This is often the case when it comes to our choice of moderators.
To be blunt, it's not about the moderators. In our framework, the moderator is there simply to make sure candidates answer questions that by and large come from the public. The moderator can ask closely related follow-ups, but ultimately, our debates are about candidates and issues on voters' minds.
We select moderators carefully, with an eye toward getting the broadest possible dissemination of our debates. That means not using current on-air broadcasters, which would cause competing stations to decline to air our debates and severely hamper our efforts to get the candidates in front of as many voters as possible.
That steadfast rule sometimes rankles journalists, but it goes back to 2007, when talk about a debate commission started. All debates at that time were exclusive to individual media companies, and the result was limited distribution. If your favorite station didn't happen to sponsor a debate, tough luck.
In those early discussions, we solicited input from state and local party chairs, candidates, campaign managers, journalists, media-industry associations, public-interest organizations and citizens groups. One comment we heard repeatedly was that the contentious sparring among TV personalities and stations over debate branding, hosting and moderators was a distraction and a disservice to everyone. 
Citizens groups expressed frustration over the nature of televised debates, the favoritism of special-interest groups and media outlets, and the influence of aggressive partisans who front-loaded the questions asked. And campaigns and media agreed it would be better to have a neutral party arranging times, venues and formats, essentially removing the competitive pressures and taking the sausage making out of their hands.
Thus, the commission was born as a coalition of the willing, and the model works. Other states followed our example, and a group in Ohio was on hand to observe the most recent debate as it plans a similar effort in that state.
Our debates are truly statewide, whether broadcast on television and radio (both public and commercial stations) or streamed on newspaper websites. For 10 years and 19 debates, all media outlets have had free access to the debates, bringing them to millions of Hoosier viewers and voters.
Debates aren't about entertainment, and they're not about moderators or media personalities. Rather, they are the best opportunity to give voters an unfiltered look at their choices. The Indiana Debate Commission will continue to improve our debates, but the mission of reaching the widest audience of voters will always guide how we do that.•
Click here for more Forefront columns.
__________
Lanosga, a former reporter, is a journalism professor at Indiana University and president of the Indiana Debate Commission. Send comments to ibjedit@ibj.com.
Please enable JavaScript to view this content.