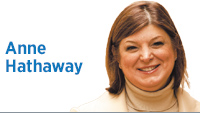 Even though we just completed a primary election and we're in the middle of a big election year, it is not too soon to think about the next election cycle. I can hear you groaning because you are already sick and tired of all those political ads and you thought you were going to get a break!
Applications for the 2018-2019 Lugar Series Class become available June 1.
The Richard G. Lugar Excellence in Public Service Series, fondly known as The Lugar Series, just completed its 28th year with a four-day trip to Washington, D.C., where the class had meetings with the Indiana GOP congressional delegation; a visit to Vice President Mike Pence's Office; and a graduation ceremony with the series' namesake, former Sen. Richard Lugar.
But even as this class concludes, there is no time to rest. With an increased demand for women to run and serve in public office, plans are already underway for the new year.
The Lugar Series, where I am executive director, was launched in 1990 by Judy Singleton and Teresa Lubbers with the full support of Lugar and the hope of guiding more Republican women to elected office and public service. The goal was to reach parity with men within 10 years and sunset the program. All these years later, the program has 509 alumnae and, despite the progress that has been made, there is still work to do.
The Lugar Series has helped launch successful political careers for many Republican women. Graduates include former Lt. Gov. Sue Ellspermann, state Treasurer Kelly Mitchell, state Sens. Erin Houchin and Liz Brown, state Reps. Wendy McNamara and Holly Sullivan, as well as Indiana State Department of Health Commissioner Kris Box and Indiana Department of Administration Commissioner Lesley Crane.
The Lugar Series annually selects 20 Republican women from across the state through a competitive application and interview process to participate in comprehensive training on politics and government. The women meet for one day a month over 10 months and are coached and trained on the organization of local, state and federal government.
They learn about the legislative, judicial and administrative branches and how they interact with one another. Experts teach campaign basics and communication skills. Lobbyists share the art of lobbying. Reporters explain how and why they choose their stories, what makes news and the impact of editors. Class members learn how to write a press release and how to prepare a three-minute speech—plus they have to deliver that speech in front of their peers, which is often more intimidating than speaking in front of a room full of strangers.
These skills help class members gain confidence and be more inclined to take risk, thus growing in their careers and preparing them for whatever public service role they choose to pursue.
The Lugar Series is lucky to be guided by a board of 25 female directors who challenge the organization to remain current and relevant. The program is supported by a large number of corporate sponsors who value the leaders the program develops.
If you know of a Republican woman interested in public service or in running for office at the local, state or federal level, or if you know of a GOP woman who should run for office, please encourage her to check out The Lugar Series and apply to the program.
Applications are available June 1 at www.lugarseries.com. The deadline for applying is Aug. 1. For more information, contact me at lugarseries@gmail.com.•
 
Click here for more Forefront columns.
__________
Hathaway is president and CEO of Hathaway Strategies, chairwoman of the Julian Center board and former chief of staff of the Republican National Committee. Send comments to ibjedit@ibj.com.
Please enable JavaScript to view this content.