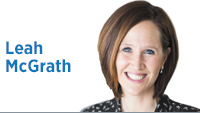 I grew up in Madison County on the outskirts of Anderson. Half, if not most, of my friends' parents worked at one of the many local GM plants that employed 20,000 people in the late '80s and early '90s. Many in my graduating class planned to enter the factory, like their fathers and grandfathers before them. My parents had friends who had gone to work at the factory out of high school and received technical and college degrees through GM, allowing them to move up the ladder. They were leaders in our church and community.
My freshman year of college, I had an internship at Plant 18 in the Ignitions Division. This was a big deal in the mid-'90s when a path at GM in our town was still full of hope. By the time I graduated from Purdue, most of the GM plants in Anderson had closed. Today, 22 years later, Plant 18 has been demolished, along with the 20 other plants that used to operate there.
I recalled all this as I read Hayleigh Colombo's IBJ article last weekend headlined, "1 in 5 Indianapolis residents lives in poverty." She quoted Drew Klacik saying: "In 1970, 29 percent of Marion County jobs were in manufacturing. In 2016, that number is 8.5 percent. … That's a problem because middle-income jobs have traditionally provided the ladders to the middle class."
It's a problem of hope (or hopelessness) and one that goes beyond Marion County. It's one you see around Indiana, where we must find a way to replace yesterday's jobs with tomorrow's opportunities. Manufacturing will continue to be an important driver in our economy, but as factories can produce more with fewer employees, we must grow other jobs that can fill the middle-class void and provide the ladder.
As so many have written—from Gov. Eric Holcomb to Fishers Mayor Scott Fadness to tech leaders like John Wechsler and John McDonald—trades and technology hold enormous potential for our state. Traditionally, as they say, Indiana is known for its knack at "making things, growing things and moving things." Manufacturing, agriculture and logistics are foundations in our economy. We need to grow that foundation to include technology and specifically to capitalize on the momentum around the internet of things, which aligns so well with making things, growing things and moving things.
Indiana should invest in this new economy, support it with all our might, and prepare our youth for this brave new world. We have the potential to grow businesses right here and to grow our talent pool through education and workforce efforts. All of Indiana must have high-speed broadband access so everyone can work and compete in this sector.
I might be the last generation to remember Anderson as it was. I don't know that we will have a time again when one company employs half the town. To be honest, I hope that isn't our future, because I have seen the effects when that one employer leaves. Instead, we need to create an environment where many employers—small businesses and some large—are innovating their way into the future.
Indiana is well-poised and achieving high marks today for its economy and tax environment. I'm proud of what the Republican leaders working with all sides have done to set Indiana up for success. What we do today will determine what's next for the middle class in our state and what hope our children will have to live the American dream here in Indianapolis and beyond.•
Click here for more Forefront columns.
__________
McGrath is deputy mayor of the city of Fishers and is vice chairwoman of the Indiana Republican Party. Send comments to ibjedit@ibj.com.
Please enable JavaScript to view this content.