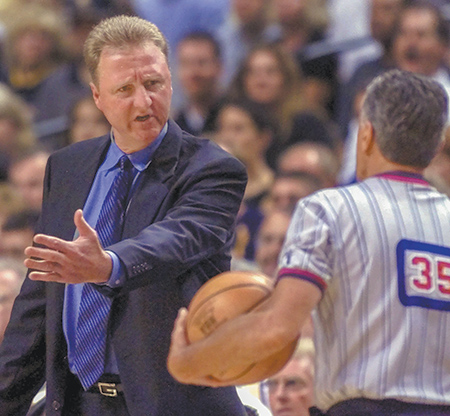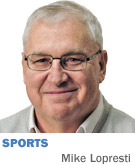 Here we are at the door to the NBA Finals, and that's Zionsville's own Brad Stevens who's doing the knocking. So that's why he drove away from Hinkle Fieldhouse, huh? For a chance like this.
Indiana's beating heart might be basketball orange, but not many guys born in this state have coached in the NBA Finals. We're talking an exclusive club that could fit inside an SUV. Plus luggage. So let's notice the footprints he's been trying to follow.
◗ See those size 17s? Larry Bird. He's on the NBA's Mount Rushmore because of all the Finals he played in as a Boston Celtic, but he also remains the only man to get there coaching the Indiana Pacers. And a lot of others have tried.
That was 2000, when the Pacers ran into the Los Angeles Shaquilles and lost in six games. It was Bird's last fling as coach, having decided three seasons would be plenty.
"It's been a great experience," he said that night in the Staples Center. "Unfortunately, it's over, but it's time to move on."
Which meant the front office—for some good days and bad at Bankers Life Fieldhouse.
◗ Then there's the coach who is so successful he needs only a one-word nickname for identification. Pop. Gregg Popovich. Born in East Chicago.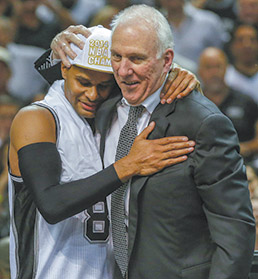 Gregg Popovich, enjoying his fifth NBA Championship title as coach of the San Antonio Spurs, in 2014, with guard Patty Mills. (AP photo)
Five NBA championships at San Antonio, six trips to the Finals, a ring for every finger on one hand, 21 consecutive winning seasons. And now he's coaching the Olympic team. That's a long way from his playing days at Merrillville High School.
"Whatever success anyone has is due to a lot of factors. Some of it is not even your doing," he once said. "Sometimes, things just happen, so success is a pretty complicated thing."
The man has driven a dynasty, and how many other Indiana native sons can say that? Besides John Wooden, and maybe Bobby Leonard? For Popovich, this was a spring for heartbreak and mourning, rather than titles. He lost his wife of four decades in April.
◗ Next, know how many coaches in the history of the world have led a team in the NBA Finals, and also won an Indiana sectional championship? One. Say hello to Del Harris, pride of Dale, Indiana.
He took the Houston Rockets to the 1981 Finals, where they lost to Boston in six games—Bird's first championship. "We held him to eight points in two of the six games," Harris said by email the other day. "But like LeBron, he couldn't be stopped forever."
Before Harris coached the Rockets (and Milwaukee Bucks, and Los Angeles Lakers), he built an NAIA power at Earlham College in Richmond. And before that, he led the Spencer Cops to the 1965 Brazil sectional title.
"What I learned in all that is that playing for a championship is the same at every level, and bigger is not necessarily better as far as the brain is concerned at that time," he said. "So I am always happy to congratulate any team at any level that wins a championship. I don't want to hear that it was just junior high or Little League or small college or whatever level below the NBA or NFL.
"It relates to business, and life. Anyone who has turned a major deal in business will admit that it brought a lot of money, but they will remember indelibly their first significant win in business—that first real deal that involved some competition. So I can truly say about winning that sectional in Brazil's little gym that had a double 10-second line (because the court was so short), I still remember it vividly and the feeling I got. I still have the celebration picture hanging on the wall here, 53 years later. Coaching in over 2,000 NBA games, the Olympics, two World Championships, etc., has not dimmed that euphoric memory."
Nor the painful memory of what happened next.
"Having lost in the last minute to Bloomington in the regional finals as a 27-year-old coach still bothers me. Just three years later, our Earlham team would be ranked sixth in the NAIA out of 500 teams, but I still feel bad for those Spencer Cops that missed out on a deeper run—and of course, the coach that would have ridden along with them."
◗ Finally, there was the New Albany product who broke the school record in the 440-yard dash at Providence High School. But then, John MacLeod always moved fast, including going from Cathedral assistant to Oklahoma head coach to the NBA inside of a decade. He was on the wrong end of what has been proclaimed as the greatest NBA Finals game ever played—Boston over his Phoenix Suns 128-126 in three overtimes in Game 5 in 1976. The Celtics ended up champions in six games. MacLeod later coached at Notre Dame.
That's it for native Hoosiers in the NBA Finals. A four-man club, though Terre Haute's Leonard is an auxiliary member, with all those Pacers ABA Finals.
There's also Jerry Sloan, born in Illinois but a legendary player at Evansville. He ended up taking the Utah Jazz to two NBA Finals, where they had the lousy timing of running into Michael Jordan.
Sloan is part of a story so eerie and tinged with tragedy, he seldom would speak of it. He accepted the Evansville coaching job in 1976 but changed his mind five days later. The following season, the Evansville team plane crashed, killing all aboard, including the coaching staff.
There's Fred Schaus, who coached the Lakers to four NBA Finals—losing to the Celtics all four times. Then he spent much of the 1970s at Purdue, where Boston was not his nemesis, but Bob Knight was.
And Charley Eckman. Who? Charley Eckman, Fort Wayne Pistons. Indy doesn't have as many finals as Fort Wayne, which had them twice in the 1950s under Eckman. It was a unique road Ekman traveled. Before he was an NBA coach, he was a referee. Went from giving technical fouls to getting them.
Terre Haute's Frank Hamblen deserves special mention as an assistant sitting next to Phil Jackson for a lot of Bulls and Lakers titles. So does Les Habegger, born into an Amish home in Berne, who later built a Division II power at Seattle Pacific and was an assistant for Seattle's 1979 NBA champions.
And now here's Stevens, a hot coaching name at Butler before he was 35. He moved on to the harsh NBA world, where you can be named coach of the year one moment and fired the next for losing in the conference semifinals. That happened this spring to Toronto's Dwane Casey. Casey was born in Indianapolis, by the way.
Stevens has become bigger in Boston than chowder, winning raves for keeping the injury-racked Celtics on target.
"It's silly," he said. "The praise is uncomfortable, and it's just something that these guys should be getting it all. We all have a role to play, and we all need to play that role as well as we can."
Time for Pop and Bird and Harris and MacLeod to move over? If not now—and LeBron still might spoil this Boston party—it will be eventually, you'd think. Stevens seems on the road so few have traveled.•
__________
Lopresti is a lifelong resident of Richmond and a graduate of Ball State University. He was a columnist for USA Today and Gannett newspapers for 31 years; he covered 34 Final Fours, 30 Super Bowls, 32 World Series and 16 Olympics. His column appears weekly. He can be reached at mjl5853@aol.com.
 
Please enable JavaScript to view this content.